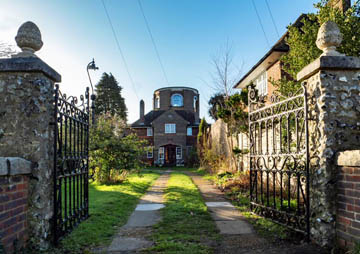 HOME PAGE WATER TOWERS IN BRITAIN

Tower House
Tower Road
Tadworth
KT20 5QY
Surrey
United Kingdom
Telephone: 01737 213169



Water Towers have been key elements in the developed landscapes of communities. They provide a gravity powered water supply to localities both residential and industrial. Local water companies built them on their highest points and pumped water up from sources at lower levels. The water was then distributed by piped infrastructure to those the company served.

The golden age of water towers is seen as 1860-1930. Today many towers have become redundant due to their locations not being sufficiently high enough to service the consumers, as the demand for water expands. Also modern pumping has enabled water pressure to be maintained without such towers.

As a result these once iconic structures, that epitomised the important role of the water company to the community, have been destroyed or converted to other uses. Their architecture proudly reflected their role and this has led to a challenge to find alternative uses for such towers. On this database we record a few examples that have survived in Great Britain.

In the database each tower has a unique identity code shown in brackets. The first number indicates the map on which Barton lists the tower, the letter(s) identify the county(s) and the last number or letter identifies the tower's position on Barton's list. Source: Barton B. (2003) Water Towers of Britain. Newcomen Soc.



Email: towers@thespas.co.uk (click here to send an email)


Website: Click Here

ADDITIONAL INFORMATION



Click website above to return to the Research Fellowship HOME PAGE.
Click the small pictures below to enlarge.
This site is still under construction.



Towers not yet included in county lists are below



REDHILL WATER TOWER (03A05)
Redhill, Bristol BS48 3DY. This former water tower is a short distance from Bristol Airport main vehicular entrance. It lies at the top of a modest hill that is farmed. As such it acts as a sentry to the modern day traffic into the airport. It is now part of a dogs boarding kennels.





LEIGH WATER TOWER (03A07)
St. Mary's Road, Leigh Woods, Clifton, Bristol. BS8 3PY. Built in 1868, four years after the Brunel suspension bridge over the Avon, which is nearby. The original Reservoir was built by the Bristol Waterworks Company in 1850. Clean water came from a spring at Barrow Gurney and ran to the pumping station in Clifton. This tower provided pressure for the distribution but is now residential.



DOWNS WATER TOWER (03A09)
Stoke Road, Clifton. BS9 1FG. Avon. Located on Durdan Down, a public open space, this tower is a startling landmark. It was constructed in 1954.



KNOWLE WATER TOWER (03A10)
Jubilee Road, Knowle, Bristol, BS4 2LP. This tower and its adjacent reservoir, lis prominently in an urban area on a hill top south of Bristol. It was built in 1905 and is operated by Bristol Water Company. Grade II listed.





MALVERN WATER TOWER (03A08)
Chew Hill, Bath and East Somerset. The rural hamlet of Malvern Lodge lies on the crest of Chew Hill, about a mile north of the village of Chew Magna in Avon. A road leads north from the centre of the village and is called Chew Hill. Malvern Water Tower is a landmark just to the right of Chew Hill road on the crest of the hill.



LUDLOW WATER TOWER (16Sh6)
Whitcliffe, Ludlow, Shropshire. This tower is located on the hills overlooking Ludlow where an astounding view can be had of Clee Hill to the east beyond Ludlow town. The tower dates from 1902 when is was constructed as part of the Birmingham Water Corporation project to secure a water supply from the Elan Valley in Wales. This project, which commenced in the last years of the 19th century, has continued to supply water to this day.




HOUSE IN THE CLOUDS (12S59)
Thorpeness, Suffolk. The present structure replaced a steel tower and tank with fantail windmill. The original water tower was built in 1923. It stored 50,000 gallons of water. The style was considered ugly so it was restyled as a house on top of a 70-foot tower. At the same time a post mill was relocated to provide a pumping facility for use in connection with the tower. In 1977 the tank was removed and the elevated house turned into residential holiday accommodation.



MARTELLO TOWER L (12S.H)
Shotley, Suffolk. TM248336. Grade II listed. A gun tower dating from the early 19th century, located on military land overlooking the modern day mooring area and docks. Converted to a water tower and lookout station for naval use as HMS GANGES.




MARTELLO TOWER M (12S.H)
Shotley, Suffolk. TM251341. Grade II listed. A gun tower dating from the early 19th century, located on military land overlooking the modern day mooring area and docks. Converted to a water tower for naval use as HMS GANGES.





LINKS TO GREAT BRITISH COUNTY LISTS - click to go to list.





Now discover MALVERN Water in MALVERN Water Towers by clicking below.











The following is an extract from 'The Supply of Water' (1931) Veal T.H.P., Chapman and Hall.