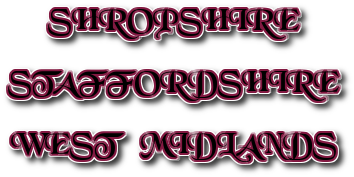 WATER TOWERS IN BRITAIN

Barton map number 16




In order to display a database of water towers, Britain has been divided into county groups with each group on a separate web page. The starting point is the towers identified in Barton B. (2003) Water Towers of Britain, The Newcomen Society. This data has then been updated.

Click on the small pictures below to reveal all.

Click on website below to return to Water Towers HOME PAGE.



Email: towers@thespas.co.uk (click here to send an email)


Website: Click Here

ADDITIONAL INFORMATION



Shropshire, Staffordshire and West Midlands





Shropshire





WILCOTT WATER TOWER(16SH01)
Wilcott, Nescliffe, just 2 miles north-west of Shrewsbury, just off the A5 road.




SHELTON WATER TOWER (16SH02)



Shelton, just west of Shrewsbury. SY3 8BJ. This tower lies at the entrance to a military establishment on the A 458 road and is managed by Severn Trent Water. The name is over the door entrance.


3 Market Cross 1 to 4 & St Mary's, Shrewsbury
4 Market Drayton
5 Cheswardine Hall, Chipnal




LUDLOW WATER TOWER (16SH06)
Whitcliffe, Ludlow, Shropshire. This Clee View tower is located on the hills overlooking Ludlow where an astounding view can be had of Clee Hill to the east beyond Ludlow town. The tower dates from 1902 when is was constructed as part of the Birmingham Water Corporation project to secure a water supply from the Elan Valley in Wales. This project, which commenced in the last years of the 19th century, has continued to supply water to this day.





NETCHWOOD WATER TOWER (16SH07)
Lying about 4 miles west of Bridgenorth, this tower is located at Netchwood alongside a north - south country lane. WV16 6SE. It has imaginatively been converted to residential and at the time of viewing was nearing completion. The conversion was first promoted in 2012.






TASLEY WATER TOWER (16SH08)
About a mile west of Bridgenorth lies the village of Tasley on a minor road off the A 458. The tower can be seen on the hill as you approach the village. The property comprises a prominent free-standing octagonal water tower. The elevated tank is supported on eight legs with a steel ladder running up one side to the dome of the tower where there is a railed perimeter. It is owned by Severn Trent Water and is disused. It is coming up for auction at the time of finding in 2022.


9 RAF Shawbury
10 Old Woodhouse
11 Lady Forester Hospital, Much Wenlock. The building survives as a Care Home for the Elderly in Farley Road, A4169, Much Wenlock. There is no sign of the water tower however.


Staffordshire

1 Ashley Heath
2 Hanchurch
3 Swynnerton
4 Meir Heath
5 Longsdon
6 Essington 1 & 2
7 Bednall
8 Morrilow Heath
9 Pye Green, Hednesford
10 Hanbury
11 Rolleston on Dove
12 Winshill, Burton on Trent
13 Michelin, Stoke on Trent
14 St Edward's Hospital, Leek
15 Burton Workhouse 1 & 2


West Midlands

1 High Acres, Wordsley
2 Goldthorn Hill, Wolverhampton
3 Turners Hill, Rowley Regis
4 Warley
5 Hollymoor Hospital









The above Spode plate illustration is of an early 19th century water tower, albeit location unknown.









REGION

England - Central