WATER TOWERS IN BRITAIN

Barton map number 7




In order to display a database of water towers, Britain has been divided into county groups with each group on a separate web page. The starting point is the towers identified in Barton B. (2003) Water Towers of Britain, The Newcomen Society. This data has then been updated.

Click on the small pictures below to reveal all.

Click on website below to return to Water Towers HOME PAGE.



Email: towers@thespas.co.uk (click here to send an email)


Website: Click Here

ADDITIONAL INFORMATION



Oxfordshire and Berkshire





Oxfordshire




SHILTON TANK
Shilton, Oxfordshire. (07OX01) This farm tank water tower lies in the small hamlet of Shilton and is shielded by trees making it difficult to spot. Grid ref. 2608.







CARTERTON WATER TOWER
Carterton, Oxford Road, Near Brize Norton Airfield. OX16 9AL. (07OX02) This red brick hospital first opened its doors in 1872 and continues to serve the public as Horton Hospital, a centre for health. ?

There is however a second tower in the vicinity. This lies on the edge of the Carterton South Industrial Estate, just inside the Brize Norton military establishment.



CHIPPING NORTON WATER TOWER
Chipping Norton, Oxfordshire. (07OX03) On the eastern side of this town. The tower is accessed by a track from the centre of the town but is visible from the A44 road to the north. Grid Ref. 318271.



4 Bampton (extinct)
5 Hook Norton Tank (extinct)
6 Shenington (gone, following campaign in 2016 to avoid demolition.)
7 Perrots Hill Tank, not found
8 Banbury
9 Eynsham (extinct)
10 Shipton on Cherwell - not found
11 Bletchingdon
12 Bovewell, Souldem
13 Bucknell
14 Hethe (extinct)
15 Cottisford(extinct)




MILTON COMMON WATER TOWER
Located by junction 4 of the M40 on the northern side, about 8 miles east of Oxford. It is managed by Thames Water. Grid Ref. 653034.



17 Thame (extinct)
18 Belmont, Wantage




BERINSFIELD WATER TOWER
Located in the village of the same name, about 7 miles south of Oxford; built in 1959, this tower lies prominently in the countryside alongside a housing estate. It was taken out of service in 2018 pending repairs and has a capacity of just under a million litres of water. Thames Water manage the site at Grid Ref. SU 574 498.






WALLINGFORD WATER TOWER
Wallingford, Oxfordshire. (07OX20) On the outskirts of this historic town. Built in 1959, this water tower holds almost a million litres of water and was recently refurbished by Thames Water to ensure its continued use by the local community. It is 30 metres tall and can be seen for miles around South Oxfordshire. In close proximity is a more recent housing development in Beeching Way OX10 0TG. One of the buildings that survived the redevelopment of the area in this road, was part of the water pumping station.




21 Cookley Green



PORTOBELLO WATER TOWER
Christmas Common, Oxfordshire. (07OX22) This tower lies about one mile north of Christmas Common on the eastern side of Oxfordshire. It is on the right, heading north, just before Hill Road on the left. Grid Ref. 722946.






23 Wolvercote, not found
24 Upper Heyford
25 Bignell Park
26 Bicester
27 Wantage
28 Milton Hill

Berkshire

1 Chilton Foliat
2 South Fawley
3 Brightwalton
4 Farnborough
5 Wash Cmmon 1 & 2 Newbury
6 Bussock Hill, Chieveley
7 Down End, Chieveley
8 Greenham, Newbury
9 Frilsham
10 Bower Farm, Aldworth
11 Tadley - could not find.




BURGHFIELD WATER TOWER
Padworth Road, Burghfield, Reading. (07BK12) Surrounded by woodland, it lies on the perimeter of Burghfield Common. This tower is guarded by a steel fence that makes it difficult to photograph.




PARK LANE WATER TOWER
Tilehurst, Reading RG31 4DU. (07BK13) Reservoir, tower and water booster station, next door to 146 Park Lane. The Water Tower public house and restaurant are nearby at 160 Park Lane. The tower, built in 1931/2, holds a huge 900,000 litres of water, in two 4.5 metre deep tanks. A plaque on the wall commemorates the opening on the 21st October. See picture at the foot of this page.




NORCOT ROAD WATER TOWER
Lies in Sona Gardens, between 54 and 54A Norcot Road, Reading, RG30 6BU. (07BK14) The tower is residential and now comprises six flats. Grade II listed.



BATH ROAD WATER TOWER
44 Bath Road, Reading. RG30 2AX. (07BK15) The site was acquired by Reading Borough Council in 1868, and the water tower built in 1870. This tower was managed by Thames Water who sought alternative uses. It is now residential and next door to Beacher Hall Care Home.




EMMER GREEN WATER TOWER
On the corner of Tower Close and Peppard Road, Reading. (07BK16) The tower was built in 1957 at Emmer Green in Reading. This tower is managed by Thames Water.




EARLEY WATER TOWER
Reading. PG2 8EG. (07BK17) Located adjacent to Whiteknights Primary School, this tower is managed by Thames Water.




FARLEY HILL WATER TOWER
Castle Hill road, just north of Farley Hill village, Reading. (07BK18) A tall concrete tower on eight legs in woodland adjacent to the road, this tower is managed by Thames Water. Grid Ref. SU750 649.






19 Buckhurst, Bracknell - could not find.
20 Windsor (extinct)
21 Slough (extinct)
22 Chilton Foliat House - Wiltshire
23 Arborfield Barracks (Extinct - now Arborfield Shopping Centre)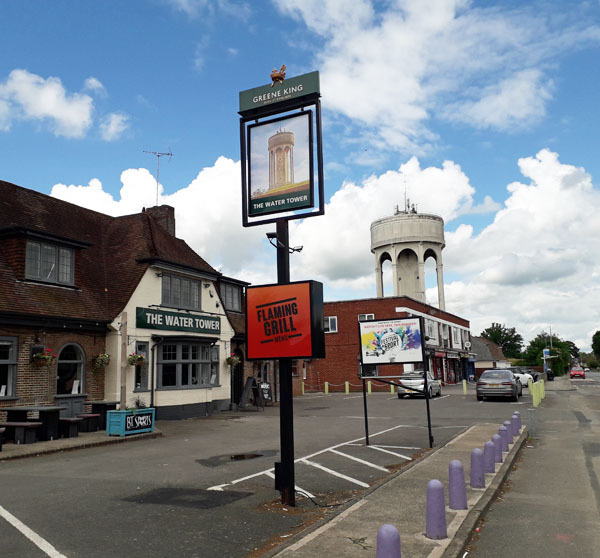 Tilehurst, Reading RG31 4DU. The Water Tower public house and restaurant at 160 Park Lane.






The above plate illustration is possibly of a water tower, albeit location unknown.









LANDSCAPE

Inland Water, Park or Garden, Quality Natural Environment, Rural, Urban

REGION

England - Southern