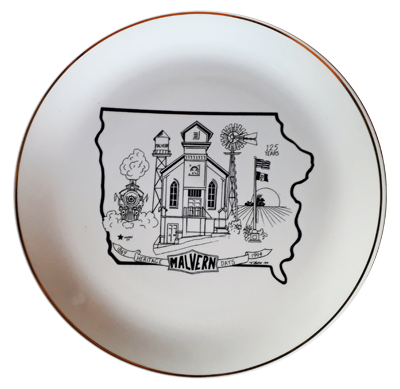 MALVERN WATER TOWERS





Great Malvern, Worcestershire, England is famous for its Malvern Waters and has been so since the mid-16th century. Now we create a new aspect of this fame and share it with Malverns Worldwide. From bottled water and collecting at the springs we move to a completely new theme for Malverns Worldwide.

Following extensive research, we now have a web site detailing the location and nature of water towers. In 2022 we launched a new database page to be included in our water towers web site, Malvern Water Towers. There is something like three dozen Malverns around the world and now we can harness a different interest in the famous Malvern's waters: which ones have water towers?

Click on the small pictures below to reveal all.

Click on website below to return to Water Towers HOME PAGE.



Email: towers@thespas.co.uk (click here to send an email)


Website: Click Here

ADDITIONAL INFORMATION




NORTH MALVERN WATER TOWER
Not far from Great Malvern U.K. This famous tower with its clock stands on a substantial ground level reservoir in North Malvern, Worcestershire, U.K. The tower was financed by Charles Morris, a wealthy Londoner and Malvern visitor from the 1830s. He was a generous benefactor and set up a number of spouts for natural Malvern water. The Clock Tower was originally a single storey Well Room built in 1836 and 'The Tank' was filled with 50,000 gallons of spring water from North Valley. In 1901, a further storey was added to the 'Tank' tower to support a new clock with four gas lit clock faces and a flag pole, to celebrate the coronation of Edward VII. In more recent years, the spout room has been enhanced with new doors and is usually decorated for the famous local annual well dressing celebrations. It is one of many celebrated Malvern water facilities and water sources around the Malvern Hills.





MALVERN WATER TOWER
Malvern, Alabama. This water tower has appeared on the scene recently and we are investigating further. Follow the link left and watch this spot.







UPTON WATER TOWER (14HWoo)
Located to the east of Upton-upon-Severn near Great Malvern, Worcestershire, U.K., by the junction of the road from Upton with the A38 Worcester to Tewkesbury road. Located in a field, this windmill and water tower are in poor condition.





TEXAS-McHENRY WATER TOWER, MALVERN, ARKANSAS.
Named after the roads that it resides on in Malvern, Arkansas, this US tower is still something of a mystery. Malvern is the gateway town to the Hot Springs National Park. Recently the tower was redecorated in leopard style to bring the community together. In spite of being a landmark, the tower had been perceived as dull and boring. During a much earlier visit we photographed a tower on the hill near the Arlington Hotel. Is this the water tower? We welcome further information. bruce@thespas.co.uk






MALVERN SHOE WATER TOWERS
Over several decades hundreds of Hot Springs County residents worked in the Shoe Company premises in Malvern, Arkansas, U.S. Today the manufacturing has moved abroad and the water towers are gone. The picture dates from the 1940s. This plant's manufacturing dates back to the 1920ís. From 1928-1964, they were the International Shoe Company which produced clothing goods. In 1964 the plant was sold to Hot Spring County and from 1966-1971 the County leased site to Curtis Mathes Company of AR where it was used to assemble televisions.







MALVERN PENNSYLVANIA WATER TOWERS
Roberts Lane Towers. This US town has a history of good water sourcing in the hills that surround the locality. The water was retained and used for local demand using local water works. This included two massive water towers seen here in 1988. They disappeared in the early 21st century.






MALVERN WATER TOWER, CHEW HILL, AVON, U.K.
(03A08) The rural hamlet of Malvern (Lodge) lies on the crest of Chew Hill, about a mile north of the village of Chew Magna in Avon. A road leads north from the centre of the village and is called Chew Hill. Malvern Water Tower is a landmark just to the right of Chew Hill road on the crest of the hill.







MALVERN IOWA WATER TOWER
1410 Marion Avenue, Malvern, Iowa 51551. US. The distinctive water tower, pictured below, greets visitors as they drive into this Malvern in the USA from the north. Recently, a Consulting Group JEO worked with Malvern, Iowa, to add a water treatment plant, restore their water tower and upgrade water mains. With the project completed, they are celebrating the work of the city and their engineers to ensure residents have quality water for the future.





TANK HOUSE MALVERN HILLS U.K.
Located in Colwall on the western side of the Malvern Hills. WR13 6RP. This building, which is a replica of the Holy Well on the eastern side of the Malvern Hills, was built in 1892 as part of the establishment of Schweppes Malvern Water bottling plant. It originally contained a substantial water tank/reservoir and associated filter equipment. The plant closed in 2011 after difficulties in improving the water supply from local springs which were seasonal. Local historian Cora Weaver approached English Heritage with a view to conserving the Tank House while all other bottling plant buildings were removed and the site redeveloped. Click left for a picture of this iconic building during transformation of its surroundings. As a result it is a Grade II listed structure seeking a new role. Recently there have been proposals to convert it to residential use.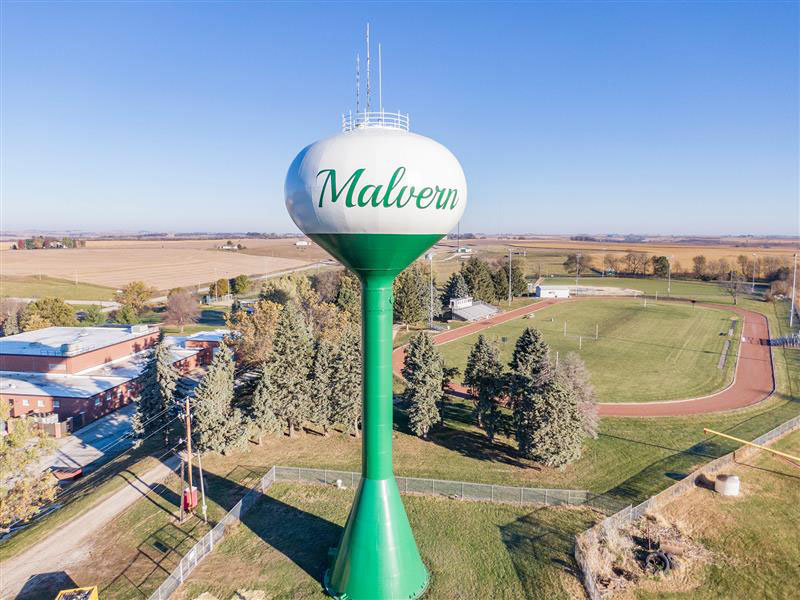 Above - Malvern Iowa Water Tower, recently refurbished.

Below - click to view Malverns Worldwide.



We already are aware of some, but not many, Malvern water towers. Do you know of one in a Malvern? If so let us know. We will add it to our database, especially if you can give us some background information, like where does the water originate and how old is the tower? Also send a picture, if possible, for inclusion.



email - towers@thespas.co.uk





DESTINY CATEGORY

Historical summary

FACILITIES

Tourism Information

REGION

England - Central, Located outside the United Kingdom, Scotland, Wales, WATER TOWER INTEREST