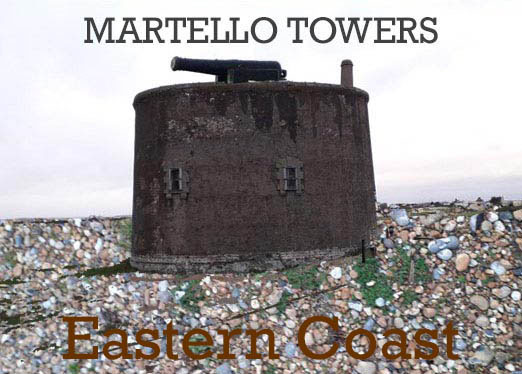 Martello Tower Database SITE UNDER CONSTRUCTION

The Martello Towers of England's East Coast
A database prepared by the Martello Fellowship
TO VIEW PICTURES CLICK THE CANNON
UNDERLINED TITLE INDICATES THE TOWER STILL EXISTS




William Cobbett in Rural Rides 1821 - 1832, comments on MARTELLO TOWERS:

I had baited my horse at NEW ROMNEY, and was coming jogging along very soberly, now looking at the sea, then looking at the cattle, then the corn, when, my eye, in swinging round, lighted upon a great round building, standing upon the beach.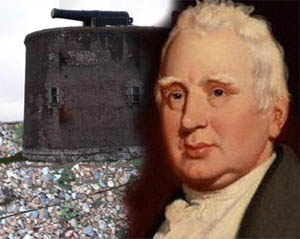 I had scarcely had time to think about what it could be, when twenty or thirty others, standing along the coast, caught my eye; and, if anyone had been behind me, he might have heard me exclaim, in a voice that made my horse bound, 'The MARTELLO TOWERS'. Oh, Lord! To think that I should be destined to behold these monuments of the wisdom of Pitt and Dundas and Perceval! Good God! Here there are, piles of bricks in a circular form, about three hundred feet (guess) circumference at the base, about forty feet high, and about one hundred and fifty feet circumference at the top. There is a door-way, about midway up, in each, and each has two windows. Cannons were to be fired from the top of these things, in order to defend the country against the French Jacobins! I think I have counted along here upwards of thirty of these ridiculous things, which, I dare say, cost five, perhaps ten, thousand pounds each; and one of which was, I am told, sold on the coast of Sussex, the other day, for Two HUNDRED POUNDS! There is, they say, a chain of these things all the way to HASTINGS! I dare say they cost MILLIONS. But, far in-deed are these from being all, or half, or a quarter of the squanderings along here. The whole thing, all taken together, looks as if a spell had been, all of a sudden, set upon the workmen; or, in the words of the Scripture, here is the 'desolation of abomination, standing in high places'. However, all is right. These things were made with the hearty good will of those who are now coming to ruin in consequence of the Debt., contracted for the purpose of making these things! This is all just. The load will come, at last, upon the right shoulders.


On the east coast, 29 martellos were built between Aldeburgh and St Osyth Stone between 1808 and 1812 to protect Essex and Suffolk. A supporting fort, or Redoubt, was built at Harwich, These are recorded alphabetically. In addition to the east coast Martello Towers, 74 towers were built along the south-east coast as detailed at the foot of this page.

Tower A


St Osyth, Essex. TM083156. The East Essex Aviation Society and Museum has been housed in the historic Martello Tower at Point Clear since 1986. Earlier it was used by coastguards and during the world wars by the military. In the 20th century it became the Tower Cafe. Grade II listed. See picture.

Tower B


St Osyth, Essex. TM . Converted to residential and later demolished in 1967. See picture soon.

Tower C


Jaywick, Essex. TM136127. Grade II listed. During WWII it was equipped with anti-aircraft guns. After the Napoleonic wars, the tower was home to a Napoleonic army pensioner and family. During WWII Clacton Home Guard occupied the tower and was later a refreshment room for a caravan park. It was bought by Essex County Council in 2020 and extensively renovated to become a cultural and heritage attraction. See picture.

Tower D


Clackton, Essex. TM161133. Grade II listed. See picture.

Tower E



Clackton, Essex. TM168138. It was once part of a Butlin's Holiday Camp converted to a water tower. The camp first opened in 1937 but closed during WWII. It reopened in 1946, finally closing in 1983. Grade II listed. See picture.

Tower F



Clacton-on-sea, Essex. CO15 1LS. TM173143. Former coastguard lookout on Marine Parade. This tower has had a variety of uses including residential, museum, model village, zoo and restaurant. The Palace Theatre was built in 1906 next to the Martello. It became the Palace Cinema in 1933 and was closed in 1939. After the war it was converted into a roller skating rink, then became a waxworks museum. The theatre building was demolished in 1974. In 1986 an extension to the Clacton & District Hospital was built on the site next to the tower but later moved. In spite of the fate of adjacent buildings the martello survived but is now closed. See pictures.

Tower G - Tower J
Demolished following sale of each in the first half of the 19th century.

Tower K


Walton, Essex. TM251220. Grade II listed. Now in the centre of a residential development and being converted to a private residence. See picture.

Tower L



Shotley, Suffolk. TM248336. This tower comprises a base, which is the original structure, on which is mounted tanks and a lookout and signals station. Both L and M were in the grounds of the RN training establishment known as Shotley Barracks. Grade II listed. See picture.

Tower M


Shotley, Suffolk. TM251341. Grade II listed. Overlooking the mooring area and docks. Converted to a water tower. See picture.

Tower N



Walton Ferry, Suffolk. TM276340. Walton Battery, otherwise known as The Dooley Fort is now located beneath docks in Harwich harbour. See picture and map of L, M and N locations.

Tower O


Felixstowe, Suffolk. TM282312. Lost to sea. See picture soon.

Tower P


Felixstowe, Suffolk. TM292330. Now converted to a coast watch lookout, within a modern high rise housing estate. Has a roof observatory. Originally moated. See picture.

Tower Q


Felixstowe, Suffolk. TM299342. Converted to residential shortly after WW II. The castellations added to the parapet are considered totally inappropriate by some. Grade II listed. See picture.

Tower R


Felixstowe, Suffolk. TM310347. Incorporated into the structure of the Bartlett Convalescent Home. Grade II* listed. See picture.

Tower S
Felixstowe, Suffolk.TM3134. Lost to sea 1830s

Tower T


Felixstowe, Suffolk. TM326366. Golf Club store. Grade II listed.

Tower U


Felixstowe Ferry, Suffolk. TM328373. Converted to residential. Grade II listed. See picture.

Tower V


Bawdsey Manor, Suffolk. TM335377. Destroyed 1819, Apparently the circular foundation in the Manor grounds survives. See picture.

Tower W


Bawdsey, Suffolk. TM355397. Located, with adjacent towers, in one of the wildest and desolate parts of Suffolk. In 1986, owners Suzanne and John converted Tower "W" into a home at a time when the sea threatened its survival. In so doing they sought to preserve the tower and its exterior appearance. This led to intensive interaction with landowners, English Heritage and the elements about turning the 19th-century defence tower into a secure residence. It was first built in 1809 at a cost of 9,784 pounds 15 shillings and 4 pence. See pictures.

Tower X
Bawdsey, Suffolk. TM 35794024 Demolished late 1800's.The foundations of the tower formed the base of a second World War gun emplacement however the remains of the tower were completely gone by 1975 due to coastal erosion.

Tower Y


Bawdsey, Suffolk. TM358410. With conservatory top room added and converted to residential. Grade II listed. The conversion of Tower Y, described as 'exemplary' by English Heritage, was undertaken in 2010. It was advertised for sale in 2021/2 for one and a quarter million pounds. See picture.

Tower Z


Alderton, Suffolk.TM361419. This Martello tower was reused in the war as an observation post and as the position for a pair of Vickers machine guns, where the height advantage gave an opportunity to sweep the adjacent beaches with fire. Grade II listed. See pictures.

Tower AA


Shingle Street, Suffolk.TM365425 Converted to residential use. Grade II listed. See picture.

Tower BB
River Ore Suffolk.TM3743 Demolished 1822

Tower CC



South of Aldeburgh, Suffolk. TM462549 The largest Martello Tower built. Constructed in a unique clover leaf form; effectively four towers joined together. It was converted to a luxury residence in the 1930s. Grade II* listed. See picture.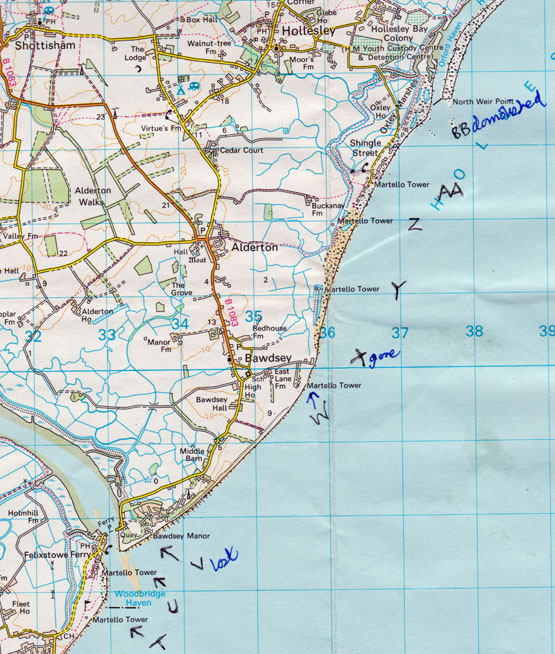 Website: Click Here

ADDITIONAL INFORMATION



The alphabetical database detailed on this web page is supplemented by a second Martello database for those located on the SOUTH - EAST COAST of England. To view this additional martello database click above.

Both databases are run by the Martello Fellowship at:
Tower House, Tower Road, KT20 5QR. United Kingdom.
Martello@thespas.co.uk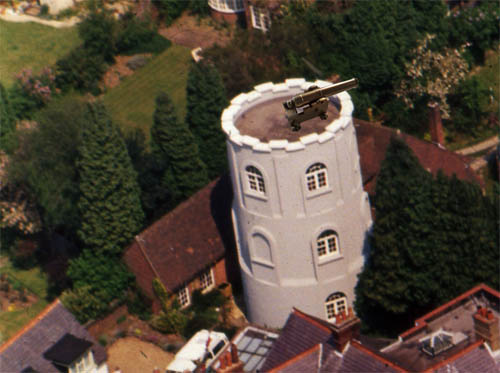 LANDSCAPE

Coastal

REGION

England - Southern