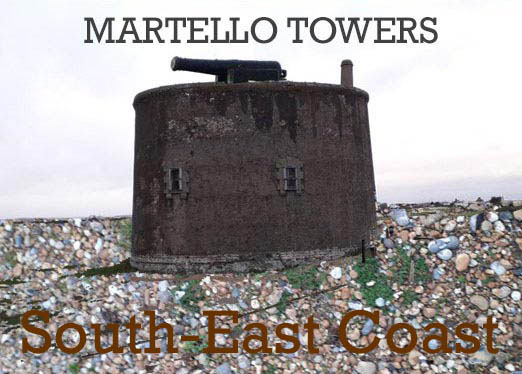 Martello Tower Database SITE UNDER CONSTRUCTION

The Martello Towers of England's South and East Coast
A database prepared by Martello Messmates
TO VIEW PICTURES CLICK THE CANNON
UNDERLINED TITLE INDICATES THE TOWER STILL EXISTS




William Cobbett in Rural Rides 1821 - 1832, comments on MARTELLO TOWERS:

I had baited my horse at NEW ROMNEY, and was coming jogging along very soberly, now looking at the sea, then looking at the cattle, then the corn, when, my eye, in swinging round, lighted upon a great round building, standing upon the beach.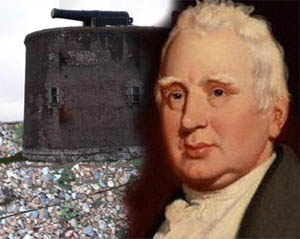 I had scarcely had time to think about what it could be, when twenty or thirty others, standing along the coast, caught my eye; and, if anyone had been behind me, he might have heard me exclaim, in a voice that made my horse bound, 'The MARTELLO TOWERS'. Oh, Lord! To think that I should be destined to behold these monuments of the wisdom of Pitt and Dundas and Perceval! Good God! Here there are, piles of bricks in a circular form, about three hundred feet (guess) circumference at the base, about forty feet high, and about one hundred and fifty feet circumference at the top. There is a door-way, about midway up, in each, and each has two windows. Cannons were to be fired from the top of these things, in order to defend the country against the French Jacobins! I think I have counted along here upwards of thirty of these ridiculous things, which, I dare say, cost five, perhaps ten, thousand pounds each; and one of which was, I am told, sold on the coast of Sussex, the other day, for Two HUNDRED POUNDS! There is, they say, a chain of these things all the way to HASTINGS! I dare say they cost MILLIONS. But, far in-deed are these from being all, or half, or a quarter of the squanderings along here. The whole thing, all taken together, looks as if a spell had been, all of a sudden, set upon the workmen; or, in the words of the Scripture, here is the 'desolation of abomination, standing in high places'. However, all is right. These things were made with the hearty good will of those who are now coming to ruin in consequence of the Debt., contracted for the purpose of making these things! This is all just. The load will come, at last, upon the right shoulders.


In addition to the 29 Martellos built on the east coast detailed lower down this page, 74 towers were built along the south coast as follows:

Tower 1


East Cliff, Folkestone. TR24093731. No. 1 stands on the cliffs 200 feet above East Wear Bay, north of Folkestone town. It was converted for residential use in 2015. Grade two listed. See picture, 1 is in the foreground, 2 and 3 distant.

Tower 2


Wear Bay Road, Folkestone. TR23973698. Residential with additional windows added and a roof, Grade two listed. See picture.

Tower 3


Folkestone. TR24063663. Martello Tower No. 3 was constructed on the cliff edge at Folkestone above Copt Point. After 1850 the tower was used by the Coastguard, with the Coastguard members and families living there. During WWII the tower had a concrete observation point linking the tower with the adjacent coastal battery. The tower was disused after the war until 1990 when Shepway Council bought it and later opened it as a visitor centre. It was used as such up to 2011 but since then has laid idle most of the time with its condition deteriorating, although now used for occasional exhibitions. Martello Tower No. 1 and No. 2 are nearby. See picture.

Tower 4


Folkestone. TR21133536. The tower is situated on Radnor Cliff in a private garden at the end of 'The Leas' in Folkestone and overlooks a residential area below. The tower survives well despite some later alterations but is now overgrown and inaccessible. See picture with 1 in the foreground, 2 and 3 are distant.

Tower 5


Coolinge Lane, Folkestone. CT20 3RB. TR220773554. A very good example of a Martello tower, set within a dry moat. It is one of a clifftop series of six moated towers, constructed in 1805-6 to defend the coastline between Hythe and Folkestone. It now resides in the grounds of Folkestone School for Girls. See picture.

Tower 13


West Parade, Hythe, Kent. TR146334. It was sold to a builder in 1928, who undertook repairs and renovations and converted it into a residence. It was sold again in 1938 and used as an observation post in the Second World War. Further renovations and modernisation were carried out in the 1960s. New large windows were added and the walls were made thinner by the removal of the internal layer of brickwork. The outcome is that this tower has been maintained for residential use but the alterations have resulted in its character being lost. This raises the question, should it still be considered a Martello Tower? See picture.

Tower 17


Hythe, Kent. TR146334. Collapsed circa. 1899. see picture.

Tower 24


Dymchurch, Romney Marsh, Kent, TN29 0NU. TR102292. Following use as a signal tower, from about 1819/20, it was taken over by the newly formed Royal Naval Coast Blockade Service in the 'war' against smuggling on Romney Marsh. During WWII it was used to spot enemy aircaft approaching England. It was restored as a museum in 1969 and is now in the care of English Heritage. Open April - October. The tower contains almost all of the features of the original design including brickwork, front and parapet doors, window openings, fireplaces, ventilation shafts and the original 24 pounder muzzle-loading cannon on the gun platform. Grade II listed building. See picture.

Tower 28


Rye Harbour, Icklesham, East Sussex. TQ942188. Scheduled Monument and Listed grade II. status. Vacant/not in use. Distinct walled moat on mound. See picture.

Towers 31 - 54


All these towers have disappeared for a variety of reasons, demolished, lost to the sea, destroyed by target practice, etc. Where details are known they are listed below. Today we can speculate on the whereabouts of former sites as in the example between Normans Bay and Cooden at grid. ref. TR705065 - see picture (where tower 55 can also be seen in the far distance on the left).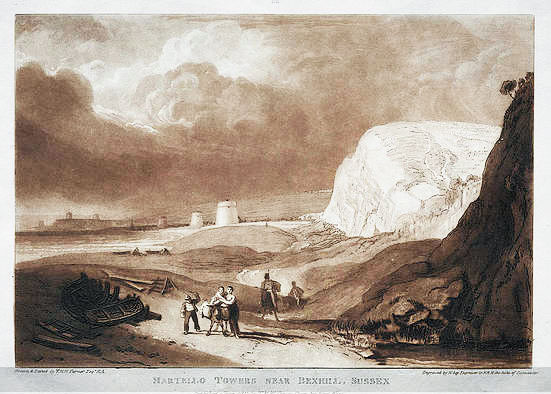 Tower 39



St Leonards, East Sussex. TQ658039. Known as the Bo Peep Martello, Bo Peep being the preventive service, sheep being the owlers and tails being smuggled tubs. "Little Bo Peep has lost her sheep and does not know where to find them. Leave them alone and they will come home, wagging their tails behind them!" The tower partially collapsed into the sea in 1876 and the Royal Engineers blew up what remained soon after. See pictures including one with 40 in background.

Tower 40


St Leonards, East Sussex. This tower survived until 1872 when experiments with gun cotton resulted in it being blown up. See picture.





Tower 55


Normans Bay, East Sussex, TQ682053. This tower has been intermittently occupied during its lifetime. There was a WWII pill box on the roof. In 1997 it was reported as tatty and boarded up. The following year the 'for sale' price dropped by 35,000 pounds to 130,000 pounds. Other uses included experimental wireless telegraphy in the early 20th century. Today it is renovated and residential. See picture.

Towers 56 to 58
Pevensey Bay, East Sussex. Lost to sea/demolished.

Tower 59


Pevensey, East Sussex, TQ662043. Demolished 1903 when housing was being constructed in the vicinity. see picture.

Tower 60


Leyland Road, Pevensey, East Sussex. TQ658039. see pictures. Residential. see picture.

Tower 61


Surrounded by modern blocks of flats, East Sussex, TQ657038. Residential with cannon. see picture.

Tower 62


Lodge and Caravan Park, Pevensey Bay, East Sussex, TQ651031. Residential. see picture.

Tower 63


Pevensey Bay, East Sussex, TQ649027. Destroyed by enemy during WWII. See picture.

Tower 64


Crumbles, East Sussex. TQ647022. Lies just south of Pevensey in an area that was once a wild habitat for coastal life. Today the entire area is developed with up to 4 storey housing and marina and is known as Sovereign Harbour. To get to the tower, go down Pacific Drive. Access to the beach is along a gated track opposite Long Beach View, off Pacific Drive. The tower is at the end of the track. It stands empty and in need of Tender Loving Care. See picture.

Tower 65
South of Pevensey, East Sussex. TQ645016. Lost to sea.

Tower 66


Langley Point Tower, Eastbourne, East Sussex. TQ644013. Disused - see picture.

Tower 67
Eastbourne, East Sussex . TQ644012. Lost - Fate unknown.

Tower 68
St Anthony's Hill, East Sussex. TQ628016. Located a mile inland north of the redoubt, the tower was a target for the military in 1860 and subsequently demolished. A housing estate on the site reflects the landscaping of the tower and is called The Circus.

Tower 69
Eastbourne, East Sussex. Lost - Fate unknown.

Tower 70
Eastbourne, East Sussex . TQ646006. No longer in existence.

Tower 71


Eastbourne, East Sussex. TQ633004. Used as a target for testing Royal Artillery Armstrong rifled guns in 1860. Subsequently demolished. See picture.

Tower 72


Eastbourne, East Sussex. TQ627001. Demolished before 1887 when the War Office sold the site to Carew D Gilbert. See picture.

Tower 73




The Wish Tower, Eastbourne, East Sussex. TV613982. Not in use at the moment although has been used for a variety of activities including, between 1812 and 1860, a coastguard/preventive service station against smuggling. This was rife at the time and involved many who had family members and friends on both sides of the law, with interesting results. In the picture c.1900 the cannon appears to be still in place. see pictures.

Tower 74



Museum, Seaford, East Sussex. TV485985 With cannon, open to public. see picture.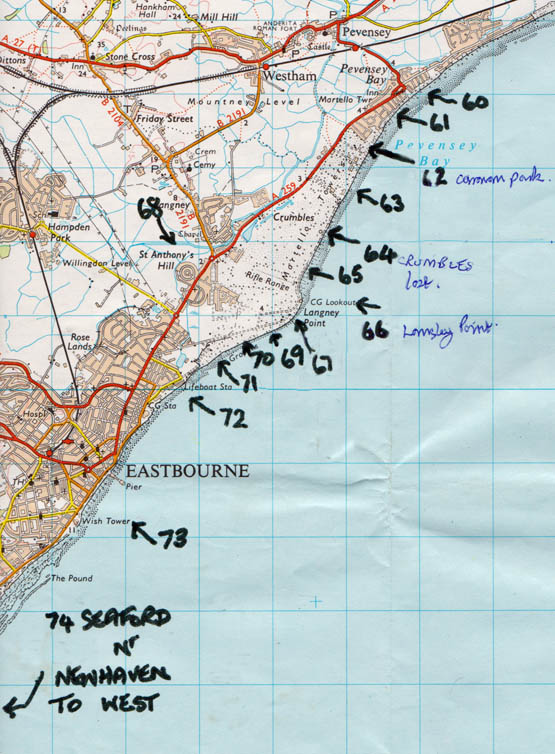 More details will be added as research continues, do contact us if you can supply more data.

Email: martello@thespas.co.uk (click here to send an email)



ADDITIONAL INFORMATION
On the east coast, 29 martellos were built between Aldeburgh and St Osyth Stone between 1808 and 1812 to protect Essex and Suffolk. A supporting fort, or Redoubt, was built at Harwich.

Tower A


St Osyth, Essex. TM083156. The East Essex Aviation Society and Museum has been housed in the historic Martello Tower at Point Clear since 1986. Earlier it was used by coastguards but in the 20th century became Tower Cafe. See picture.

Tower F



Clackton, Essex. CO15 1LS. TM172142. Former coastguard lookout on Marine Parade. This tower has had a variety of uses including residential, museum, model village, zoo and restaurant. The Palace Theatre was built in 1906 next to the Martello. It became the Palace Cinema in 1933 and was closed in 1939. After the war it was converted into a roller skating rink, then became a waxworks museum. It was demolished in 1974. In 1986 an extension to the Clacton & District Hospital was built on the site. In spite of the fate of adjacent buildings the martello survived. The latest in 2020 is the possibility of using it for weddings. See pictures.

Tower P


Felixstowe, Suffolk. TM292330. Now converted to a coast watch lookout, within a modern high rise housing estate. Has a roof observatory. Originally moated. See picture.

Tower Q


Felixstowe Suffolk. TM299342. Converted to home. The castellations added to the parapet are considered totally inappropriate by some. Grade II listed. See picture.

Tower R


Felixstowe Suffolk. TM310347. Incorporated into the structure of the Bartlett Convalescent Home. Grade II* listed. See picture.

Tower S
Felixstowe Suffolk.TM3134. Lost to sea 1830s

Tower T


Felixstowe Suffolk. TM326366. Golf Club store. Grade II listed.

Tower U


Felixstowe Ferry Suffolk. TM328373. Converted to residential. Grade II listed. See picture.

Tower V


Bawdsey Manor, Suffolk. TM335377. Destroyed 1819, Apparently the circular foundation in the Manor grounds survives. See picture.

Tower W


Bawdsey, Suffolk. TM355397. Located, with adjacent towers, in one of the wildest and desolate parts of Suffolk. In 1986, owners Suzanne and John converted Tower "W" into a home at a time when the sea threatened its survival. In so doing they sought to preserve the tower and its exterior appearance. This led to intensive interaction with landowners, English Heritage and the elements about turning the 19th-century defence tower into a secure residence. It was first built in 1809 at a cost of 9,784 pounds 15 shillings and 4 pence. See pictures.

Tower X
Bawdsey, Suffolk. TM 35794024 Demolished late 1800's.The foundations of the tower formed the base of a second World War gun emplacement however the remains of the tower were completely gone by 1975 due to coastal erosion.

Tower Y


Bawdsey, Suffolk. TM358410. With conservatory top room added and converted to residential. Grade II listed. Advertised for sale in 2021/2 for one and a quarter million pounds. See picture.

Tower Z


Alderton, Suffolk.TM361419. This Martello tower was reused in the war as an observation post and as the position for a pair of Vickers machine guns, where the height advantage gave an opportunity to sweep the adjacent beaches with fire. Grade II listed. See pictures.

Tower AA


Shingle Street, Suffolk.TM365425 Converted to residential use. Grade II listed. See picture.

Tower BB
River Ore Suffolk.TM3743 Demolished 1822

Tower CC



South of Aldeburgh, Suffolk. TM462549 The largest Martello Tower built. Constructed in a unique clover leaf form; effectively four towers joined together. It was converted to a luxury residence in the 1930s. Grade II* listed. See picture.