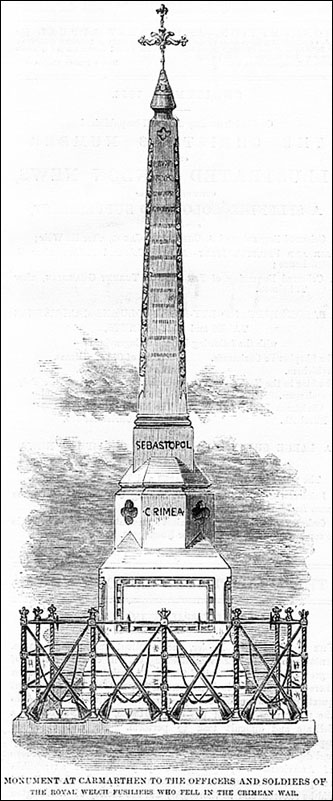 CRIMEAN CANNONS - WHERE ARE THEY NOW?

Lammas Street
Carmarthen
Carmarthenshire
Wales
SA31 3AZ



A captured Russian cannon was donated to the town in November 1859 and was at the time a treasured addition to a monument erected to commemorate the Crimean War. Before this, work on creating a street monument, designed and made by the sculptor Edward Richardson of London, was underway.

In July 1858 sections of the newly crafted Portland stone obelisk arrived by rail at Carmarthen station. Work to build the monument began immediately, under the supervision of Mr. Weekes of Carmarthen. Inauguration was set for the fourth anniversary of the Battle of the Alma, Monday 20 September 1858. (see illustration right) The Russian gun from the recent war was placed in front of the Monument the following year.

The cannon itself was later removed, as was the adjacent twin headed lamp-post. Cast iron, unusual railings, in the form of crossed rifles, surround the monument which was located in the centre of the street.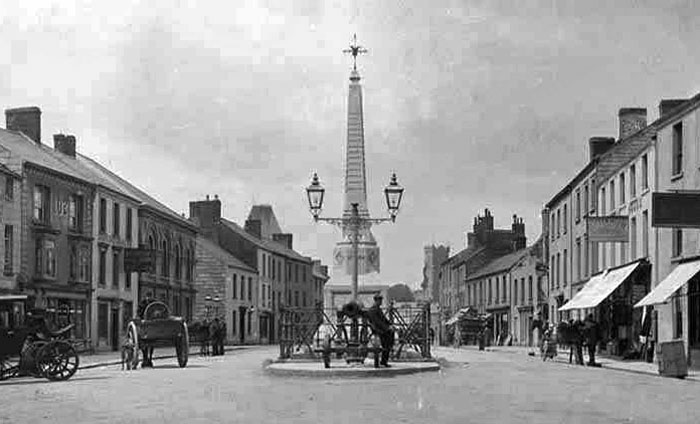 Website: Click Here

ADDITIONAL INFORMATION













FACILITIES

Access all Year, Access by Road

LANDSCAPE

Country town/village

REGION

Wales

THE FEATURES PRESENT

Crimean Cannon Location, past or present