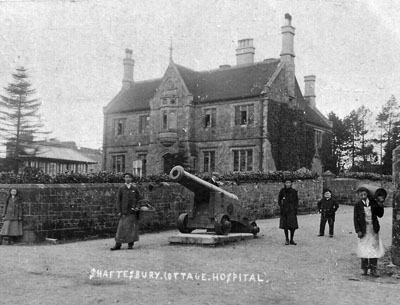 CRIMEAN CANNONS - WHERE ARE THEY NOW?

Abbey Walk,
Shaftsbury
Dorset
Great Britain
SP7 8BD
Telephone: 01747 851535

The pictures right show the Westminster Memorial Hospital as it was in about 1900 and how it looks today. Subsequent extensions have enlarged it to three times the original size. The cannon outside was a trophy from the Crimean War, captured at Sebastopol in 1855. The Dowager Marchioness of Westminster gave the land for the Hospital in 1870 and the hospital was opened in 1874 in memory of her husband the Marquis of Westminster, who owned many estates in and around Shaftesbury.

Since then it has had many updates and improvements. One thing remains unchanged however - the spectacular views from the hospital across the Blackmore Vale, which is medicine in itself. It has ended up with 15 beds and a large number of outpatient clinics run by Salisbury Foundation Hospital.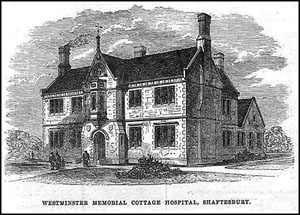 Today however the hospital is under threat of closure. Members of Shaftesbury Town Council have agreed to kick-start the process of getting the community together to decide the best way forward for Shaftesbury's Westminster Memorial Hospital. This follows the decision to save the in-patient beds for the time being. Like the earlier Crimean Cannon, at some point soon both the hospital as it is and the cannon may have disappeared. So far it is only the cannon. No longer can it be a favourite thing for the local kids to be photographed alongside.






ADDITIONAL INFORMATION











LANDSCAPE

Country town/village, Rural, Upland

REGION

England - Southern

THE FEATURES PRESENT

Crimean Cannon Location, past or present