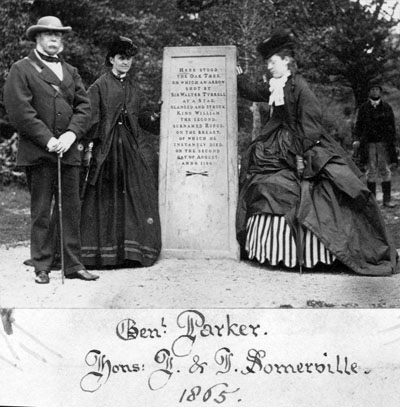 Somerville Family and Friends

and Lady Somerville's social round




Picture right - socialising in the New Forest at the Rufus Stone. The memorial commemorates the traditional location where William II, son of William the Conqueror, died in a hunting accident. The first Somerville initial may be an error and should be an 'E'.


Lady Somerville's social round was based on a number of distinct groupings of people. All were from a similar stratum of society and it is apparent that she did not socialise to any great extent with those at different levels. Her diaries reveal that she did not aspire to mix with Royalty and she avoided socialising with others of 'lower' status. In fact when they intruded she gave them short shrift. The hierarchy was well established and she upheld the conventions of the day. She felt most at ease with those of similar station and with similar values to herself. However, those who broke the unwritten rules and conventions would elicit implied moral condemnation.

In spite of this deliberate narrowing of her social horizons, the reader can easily deduce that there was no shortage of opportunity for intermingling with her selected acquaintances. We may well ask why this was so, particularly as her diaries refer to periods when she is away from her home at Newbold, Leamington Spa. Away from home implies away from friends and relatives. What is apparent is that she chose holiday venues where she knew there would be friends and family. There is no doubt that such sorties where well organised in advance, with family contacts in particular planning their vacations together. In addition, her status in society gave her access to what may be seen as an exclusive club. She was part of an extended network of aristocracy and gentry who socialised together when and where appropriate. They had rules of behaviour, common friends, family connections and similar value systems that enabled them to make contact easily for a short period. They were never alone.

A vacation to Lady Somerville was not a rest from the arduous workplace of a Victorian industrial enterprise or from domestic drudgery. Her holidays were an opportunity to explore the local topography and of course meet and develop her relationships with family and friends. In addition, her children were educated into the social conventions through such experience and this ensured that the system perpetuated across the generations.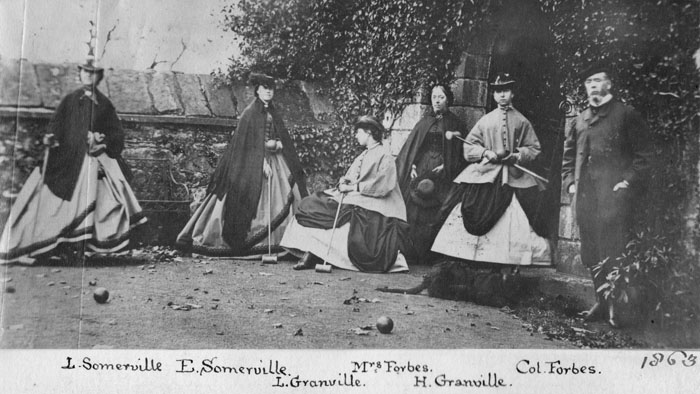 A gathering of family and friends in 1963.



The circle of family and friends had a number of dimensions within it and these help to explain the profusion of names and people that appear in the diaries. There were inevitably those who were closer than others and a good model is to imagine a series of concentric planetary rings, with individuals circulating at varying distances to the central focus according to the closeness of their relationships with Lady Somerville. Closest of all were her immediate family, her 5 daughters and 2 sons and her husband Kenelm, 17th Baron Somerville and at the time Vice Admiral, RN.

The extended family relationships are somewhat more complicated. In the first instance, many of the names that occur, stem from the links with the Hay family - Earls of Erroll. The family is of immense antiquity and grandeur, having been hereditary Lord High Constables of Scotland since 1315, walking directly behind Royals at Coronations.

William the 17th Earl of Errol (1772-1819) had married three times. His wives had given him a total of 7 daughters and 4 sons. His second marriage in 1796 to Alicia Eliot, from Antigua, had been particularly prolific. His third wife was Harriet, sister to Kenelm Somerville, which explains the connection. The 7 daughters and 4 sons were therefore all cousins or half cousins of Lady Somerville's 7 children. They were however a generation (about 30 years) before Lady Somerville's family and this meant that the children of the 17th Earl of Erroll were in turn marrying and having their children, by the time Lady Somerville was taking her offspring on holidays in the 1850s.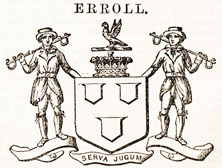 To give an indication of the extent of the Erroll family connections, the genealogy of each of the 17th Earl of Erroll's children is briefly summarised.

1st marriage to Jane Bell

Dulcibella, who in 1821 married Charles Wodehouse

2nd marriage to Alicia Eliot

James, Lord Hay

William George, later the 18th Earl of Erroll, who in 1820 married Elizabeth Fitz Clarence, natural daughter of William IV by Mrs Jordan, an actress. Their son William Harry Hay was to become the 19th Earl of Erroll and served in the Crimea War after marrying Elizabeth Gore in 1848.

Samuel, married in 1832 Louisa Pleydell-Bouverie.

Isabella, married in 1820, Lt-Gen William Wemyss. Her husband died in 1852 and her eldest son James in 1857. Lady Isabella and her children Charles and Isabel (Isabella) appear in the 1858 diary.

Harriet, married Daniel Gurney in 1822. Their daughter Louisa married Sir Thomas Troubridge, the Crimea hero in 1855. They appear in the 1859 diary of Lady Somerville. Louisa, as Lady Troubridge went on to write the famous book on etiquette.

Caroline, married in 1823 John Morant of Brockenhurst Park, Hants. Lady Caroline and her sons Hay and Willie are mentioned extensively in the Cowes diaries of 1855 and less so in 1858. John however died in 1857. The Morants were from Upham House, Hants.

John Morant's sister Louisa married in 1843 Captain William Skipwith, son of Sir Grey Skipwith 8th Bt. The Skipwiths occur extensively in the Isle of Wight diary of 1855. Sir Thomas Skipwith 9th Bt, who inherited Sir Grey's estate in 1852, was a Somerville neighbour at Newbold Hall, Leamington Spa.

Humberstone - born 1823, was the 11th son of Sir Grey Skipwith. He took up a career in the Church and in 1860 hoped to marry Emily, Lady Somerville's daughter, details of which are recorded in the Weymouth diary. He eventually married Adelaide Biddulph, from the same family that Mary, Lady Somerville's daughter was to marry into.

Emma, like her sister Isabella, also married into the Wemyss family. She married, in 1826, Rear Admiral, James Wemyss, RN MP. She died in 1841 and he in 1854.

3rd marriage to Harriet Somerville

Somerville (Rev.) - married in 1843 Alicia, daughter of the 12th Earl of Buchan. He died in 1853, just two months before the birth of his son also named Somerville.

Fanny - married in 1848, Rev. Stephen Cartwright, Rector of Aynhoe. She died in 1853 leaving a daughter. Stephen Cartwright appears in the Boulogne diary of 1854. Lady Somerville records the anniversary of his wife's confinement and death on page 37. This connection gave the Somerville's a link with the very extensive Cartwright family of Aynho, details are given in the footnote to 1854 page 34.

Margaret Julia - married in 1846 Frederick Lushington of Rosiere, Hants, the sixth son of Sir Henry Lushington 3rd Bt. The Lushingtons occur in the Cowes 1858 diary and Frederick in Lady Somerville's will. Lady Somerville died in 1885 and Frederick, described as a friend, in 1892. See footnote to page 1855 page13.



Having considered the extensive family network resulting from the marriage of Kenelm's sister Harriet to the 17th Earl of Erroll, it is also interesting to note how his other brothers and sisters provided an extended family.

Kenelm's father was Hugh Somerville (1729-1795). Hugh was the younger of two brothers and died without inheriting the title of Baron Somerville, the title being with his elder brother James 14th Baron. Hugh married twice resulting in the following offspring:-

John (1765-1795) was Hugh's only child by his 1st marriage to Elizabeth Letheridge and Kenelm's half brother. It was John who became the 15th Baron and acquired The Pavilion in Roxburghshire, of which mention is made in the Scarborough diary of 1856. John was a great agriculturalist and a neighbour of Sir Walter Scott, who was to edit the Memorie of the Somervilles. He died unmarried in 1795.

Hugh Somerville then had by his 2nd marriage to Mary Digby of Warwickshire in 1778.

Mark - born 1784, Captain in the Royal Artillery, who became the 16th Baron. He died unmarried in 1842.

Kenelm - born 1787, who became the 17th Baron in 1842. He married in 1833 Frances Louisa Hayman, Lady Somerville author of the diaries, by whom he had 5 daughters and 2 sons between the years 1835 and 1844.)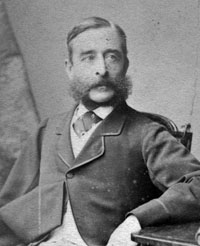 (1) Louisa Harriet Somerville, b. 11 Jan 1835, d. 25 Feb 1923 (Age 88 years) Married Colonel Henry CB RA. (picture right)


(2) Emily Charlotte Somerville, b. 29 Jul 1836, d. 20 Jan 1923 (Age 86 years) Married Rev. Robinson.


(3) Mary Agnes Somerville, b. 19 Dec 1837, d. 16 Jun 1889, South Parade, Southsea, Hampshire, England (Age 51 years) Married Sir Theophilus William Biddulph.


(4) Hugh Somerville, Lord Somerville, b. 11 Oct 1839, Royal Leamington Spa (Leamington Priors), Warwickshire, England, d. 17 Nov 1868, near, Kilworth, Leicestershire, England (Age 29 years)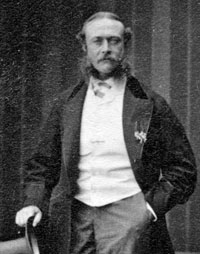 (5) Lieutenant Frederick Noel Somerville, b. 8 Oct 1840, d. 8 Jan 1867, Christchurch, Hampshire, England (Age 26 years)



(6) Selina Constance Somerville, b. 21 Nov 1841, d. 13 Jan 1910, London, Middlesex, England (Age 68 years) Married Captain Smyth. (picture right)





(7) Julia Frances Somerville, b. 24 May 1844,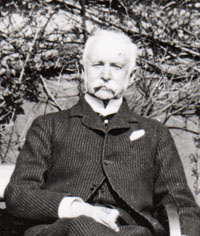 d. 30 Mar 1913 (Age 68 years) Married Sir Edward Blackett. (picture right)




William - born 1789, rector of Barford, Warwickshire as well as Aston Somerville between 1813 and 1841. He married in 1830 Charlotte Bagot. Charlotte Somerville appears frequently in the diaries, particularly in 1854 & 5. They had 5 children:

(1) Walter (1831-1865) who died in Paris unmarried,

(2) Everard (1833-1868) who is mentioned in the 1858 diary with his wife,

(3) Reginald (1835-1855) was killed before Sebastopol in the Crimea War and appears in the 1955 diary,

(4) Aubrey (1838-1870) was to become the 19th Baron and developed sugar cane interests in Port Macquarie, Australia. Aubrey is mentioned in the Boulogne 1854 diary when he is on the Hannibal sailing to and from the Crimea,

(5) Augustus (1839-1869) died unmarried and appears to have had a farm near Ripon, according to Aubrey's will.

As all the sons had no issue the Barony became extinct on Aubrey's death.

Mary - who married the Rev. C Digby, who died in 1834.

Frances - married the Hon. W Booth Grey in 1838.

Harriet - who married the Earl of Erroll as detailed previously

Julia - Valenzia - married in 1816, Sir Francis Bond Head, Bart. K.H. Lady Head is mentioned in the 1854 diary. She was born on the anniversary of the capture of Valenza d'Alcantara by her father. They had two boys and lived at Park House, Croydon: George became the rector at Aston Somerville between the years 1847 and 1893. Henry took up an Army career and is mentioned in the 1858 diary. Sir Francis, Julia and Henry are buried in Sanderstead, Surrey.


An extended family of the status and character of the Somervilles was integral to the social life that Lady Somerville pursued. As well as family, there was a further circle of friends who were unrelated. Some of these appear to come from her childhood contacts in Hampshire. She was born in Southampton in 1804. Another circle of acquaintances was the result of Kenelm's naval career. They thought nothing of inspecting the occasional ship or of entering a military establishment, often criticising the facility as well as enjoying the hospitality.

Bruce Osborne, Jan. 2000

Click Website below to return to the main index page.



Website: Click Here

ADDITIONAL INFORMATION



LORD SOMERVILLE HEREDITORY TITLE

date granted/number/name/born/demise/age.(if known)

c 1435 B[S] 1 Sir Thomas Somerville Dec 1444 Created Lord Somerville c 1435

Dec 1444 2 William Somerville c 1400 20 Aug 1456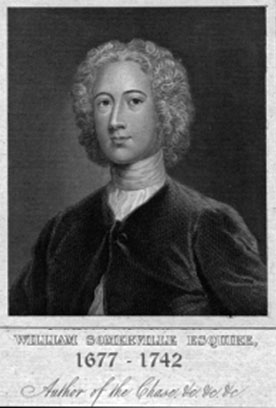 20 Aug 1456 3 John Somerville Nov 1491

Nov 1491 4 John Somerville 1523

1523 5 Hugh Somerville c 1484 1549

1549 6 James Somerville c 1518 Dec 1569

Dec 1569 7 Hugh Somerville c 1539 24 Mar 1597

24 Mar 1597 8 Gilbert Somerville c 1568 1618

1618 9 Hugh Somerville c 1573 Apr 1640

Apr 1640 10 James Somerville Jan 1596 3 Jan 1677 80

3 Jan 1677 11 James Somerville Jan 1632 7 Feb 1693 61

7 Feb 1693 12 James Somerville 1674 4 Dec 1709 35

4 Dec 1709 13 James Somerville Jan 1698 14 Dec 1765 67

14 Dec 1765 14 James Somerville Jan 1727 16 Apr 1796 69

16 Apr 1796 15 John Southey Somerville 21 Sep 1765 5 Oct 1819 54

5 Oct 1819 16 Mark Somerville 26 Oct 1784 3 Jun 1842 57

3 Jun 1842 17 Kenelm Somerville 14 Nov 1787 19 Oct 1864 76

19 Oct 1864 18 Hugh Somerville 11 Oct 1839 17 Nov 1868 29

17 Oct 1868 19 Aubrey John Somerville 1 Feb 1838 28 Aug 1870 32 to On his death the peerage became dormant 28 Aug 1870







REGION

Not Regional