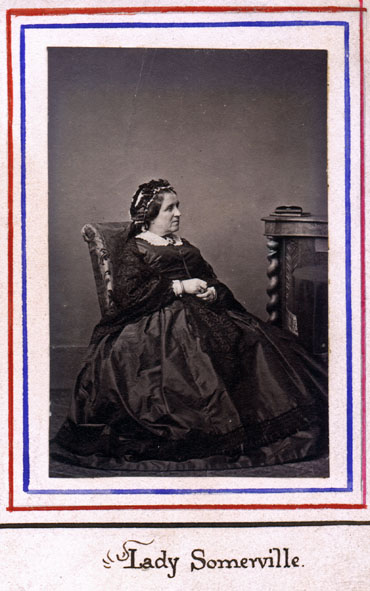 [xx] = Diary page numbering.

Click the F/N button for numbered footnotes.

French text characters have been replaced with English




Introduction to the 1854 journal.

Frances Louisa Hayman, born 11th September 1804, was the daughter of Major John Hayman. He had a successful career in the American War of Independence and the Revolutionary Wars against France before his retirement in 1799. Her aunt was Miss Anne Hayman, who held various posts as sub-governess to the only child of the Prince Regent and later companion to the Prince of Wales and Queen Caroline. In 1833 Frances married Captain Kenelm Somerville, one of eight children of Lieutenant Colonel Hugh Somerville. By one of those quirks of fate, on the demise of his half brother John Southey Somerville (15th Baron) and his brother Mark (16th Baron), Kenelm and Frances found that they were Lord and Lady Somerville in 1842. With the title 17th Baron came the wealth and prestige of the aristocracy and gentry and they established a seat at Newbold Comyn in Leamington where they could bring up their family. Such good fortune comes to few in life and Lady Somerville was aware of the fragility of fate. Her diaries are her way of recording her good fortune and concentrate on their summer vacations, although much detail of their home life is apparent. For the modern day scholar, the diaries give a remarkable insight into the life and times of a Victorian Lady.

Lady Somerville launches into French vocabulary in her journal of eight weeks of holidaying in Boulogne in 1854. Between 1840 and 1860 Boulogne enjoyed twenty years of patronage by the British privileged classes. It was a fashionable resort extensively featured in such publications as Punch and the Illustrated London News. The timing of Lady Somerville's visit is interesting because the Crimea War is underway and French troops are stationed at the nearby camps, which she inspects from time to time. Like many of their acquaintances and friends, Aubrey Somerville, cousin to Lady Somerville's children, is involved with the war and returns from the war zone during their holiday. Cholera is not only a threat to the Crimean participants; it is also prevalent both in France and England and no doubt the transfer of troops to and from the Crimea exacerbates the epidemic. When Florence Nightingale and her nurses set out for Constantinople in October 1854, they spent their first night away in Boulogne. The Bracebridges, friends of Lady Somerville, were with the party.

The education of Lady Somerville's children continues during the stay at Boulogne with suitable instructors being appointed at the commencement of their holiday. With her are her five daughters, Louisa (Louy) born 1835, Emily born 1837, Mary born 1838, Selina born 1842 and Julia born 1844. Their ages range from 10 to 19 years. In addition her sons come and go, Hugh, born 1839 who joins them from Eton and Frederick born 1840. There is constant interaction with friends and relatives both by letter and with those who are also contemporaneously at Boulogne. This interaction is somewhat less apparent than in later diaries, no doubt as a result of the slightly more difficult communications resulting from the Channel. In spite of this Lady Somerville and family are members of a well off, social group and network.

Kenelm, her husband, is a shadowy figure who appears from time to time and we can surmise that much of the time he spends pursuing activities that are closer to his military and financial interests than those of Lady Somerville. Her holiday is spent shepherding the children and keeping a watchful eye on events that are of immediate concern, the quality of the food, new arrivals at the port and touring. Fortunately for her while in Boulogne, like her later holidays, she is free from the domestic drudgery, thanks to the numerous servants that escort the family on such trips. We only catch glimpses of the domestic staff, Anne (Dempsey, the Lady's maid?) and Doswell being two of the servants, Mrs Ewen appears to have been the cook, Edward (Ashbourne?) the groom and Miss Cunningham the governess.

Bruce Osborne 2001



[1] Frances Louisa Somerville Boulogne 1854 Vue Du Beffroi Haute-Ville

[2] 1854 Boulogne July 13th Thursday - At 9 o'clock we left the Leamington Station.

F/N 1, My Lord and I and five daughters, Miss Cunningham

F/N 2, and five servants - A pleasant day without rain or sun - At Reading we were obliged to change to the narrow gauge which we found very shaky and fatiguing. Mr Ramsay met us at the station, and was very good natured and civil as usual - We were detained a long time at Reigate

F/N 3, waiting for the London train, but at last we arrived at Folkestone at 6 and walked down to the Pavilion Hotel, where we were received by our old friend Giovanini and ushered into splendid Apartments fit for a Prince and his suite - but all most thoroughly comfortable. [3] After a large The we walked with the Dallas's up the Heights to Sandgate a delicious air and fine Evening - Went to bed at 10 very tired - An excellent band played all dinnertime or rather tea.

14th Breakfasted at 9, and then went down to the Pier to see the 21 horses slung up by a crane in boxes, and lowered into the steamer with wonderful ease - A scud of rain came on and alarmed us for our voyage, so we listened to Giovanini singing various bravura songs - The rain cleared off and after taking a quantity of Dr Jephson's specific lemon juice,

F/N 4, we embarked in the Reine Des Belges steamer for Boulogne - there was a fresh breeze and for the first quarter of an hour we all thought it very charming dancing over the green waves - but by degrees Louy [4] Mary and last Emily were handed down to leeward and endless white basins were called into the service of the unhappy passengers. Kenelm bore it like an Admiral, and so did I till we were about 'half seas over' when I succumbed to the fate of the rest but soon recovered, and did not suffer near so much as my neighbours - At about half past 4 we got into the harbour and very thankful we were to find ourselves there. We were detained sometime at the wearisome Custom house to give our names and address, and then found our Commissionaire Mr Pay ready to escort us to our house 8 Rue du pol d'Etain rather a back street, but a good large house which holds us all comfortably plenty of clocks and looking glasses - but rather scanty in the necessaries of life and the offices very deficient. After a [5]substantial tea we walked up the Grande rue and through the Haute Ville

F/N 5, and went to bed thoroughly tired with our voyage and its consequences -.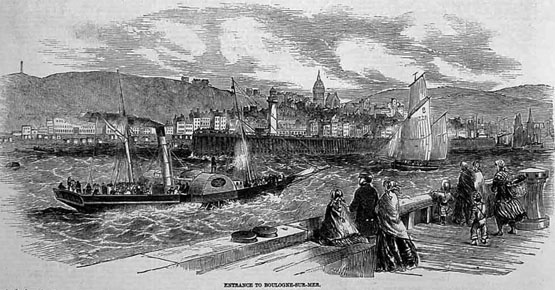 15th Went about the Town in search of a Pianoforte, Merriden's Library / a very shabby concern / called on Lady Louisa Ramsey 11 Grande rue, but she was out - then to Wine Merchant, and to take Pews in the Church arrange with Trades people, got money changed etc. After dinner at 6 walked all round the ramparts.

Sunday 16th Went in the morning to Trinity Church

F/N 6, quite near us with a very good Clergyman Mr Furlong and fair Music. So we shall take permanent seats there. In the afternoon Kenelm, Mary and I went to Mr Bouchers Church / the British / in the Rue Royale - but it is a long way off and we did not like the service as well as [6]at Mr Furlong's - In the Evening took a walk by the Etablissement

F/N 7, in a dirty sandy road - nothing can be more dreary and dirty than the Coast - no fresh sea breeze or shipping to be seen, and there is nothing but the Town of Boulogne to recommend it as far as we have seen - Crowds of soldiers and officers meet us at every turn, all perfectly well behaved and civil, but I cannot admire their costume and they are generally dirty and unmilitary looking - The Vivandieres who accompany them in sort off Bloomer Costume are very picturesque - We took a drive to Capecure

F/N 8, on Saturday and saw the Hotel de Brighton, which the Emperor

F/N 9, has taken for the month of September. The railroad is there too and some good houses but it abounds in the Mauvaises Odeurs so prevalent in Boulogne -. Went on the Pier to see the unfortunate victims land.

[7] 17th Monday The children took their first dip in the sea which they enjoyed. There are about 90 Machines

F/N 10, - We went bonnet hunting and called on Lady Louisa Ramsay again - found her with her children who were taking a lesson from Delplanque in dancing

F/N 11, - We shall begin with him tomorrow - Ate some ices at Jerjiers very good. A very tough goose for dinner and N.B. not to buy poultry in the market where they cheat immoderately - vegetables fruit and washing are decidedly cheap but everything else dear. Meat 7.5 a pound and cheese 16 a lb. After dinner we walked on the Pier crowded with soldiers. Met a funeral procession, and some Nuns - .

18th Tuesday Our first letters from England this morning - one from Lady Head

F/N 12, announcing [8] the death of Mrs Dalrymple at Dunchurch the other from Charlotte enclosing a letter from Aubrey at Calais

F/N 13, but he has sailed in the Hannibal

F/N 14, for the Baltic with horses. Rainy morning, but it cleared at 12, and we were very busy with the accounts of francs and centimes which by the bye are deserted. Kenelm and Louy and Emily took a drive to look at the Camp at Wimereux, while I went with Mary, Selina and Julia to the dancing Academy / Delplanque / a large Salle with 40 or 50 children of all sizes, and some dance well, but I shall much prefer private lessons in future -. In the Evening we walked to the end of the Capecure Pier, nearly a mile long and much quieter and purer air than the other -. We saw a fine English Yacht there from Sandgate - .

[9] 19th Wednesday We all went into the Market, and bought fruit and beautiful flowers very cheap - then I went on with Mary and Miss Cunningham to look for the Drawing Masters Betencour and Lastin - in the Rue Des Villierds - found both at home and rather prefer the latter. After luncheon we went up to call on Captain and Mrs Maxwell in the Haute Ville in the Enelos de l-Eveche's or Cathedral Close - the most dismal wretched old place I ever saw - We found them at home, and they complained much of the dullness and long distance from the sea, as they came for gaiety and sea air! There is none here but on the Capecure side. After leaving them we strolled into the new Cathedral, which has been 25 years in building, and is not near [10] finished yet

F/N 15, - It is quite the St Pauls of Boulogne, and all undertaken by one man who is the Master of the College of 300 boys close to Captain Maxwell's - We then went into a Roman Catholic Church, and saw various women and a Nun at their devotions - there were several pictures of the Holy family etc. - but I was most struck with a black virgin over the Altar in a white and blue dress -
they told me that in the Revolution of 1845 the picture was thrown into the fire, but it would not burn, and it was then cut to pieces with hatchets and thrown right and left, and that this one was now painted black to make believe it had been burnt in the fire (see picture right of the Black Virgin in 2018)

F/N 16. There was a handsome carved pulpit and various Confessional boxes and silver [11] (The Black Virgin - photo) ornaments - . I had some difficulty in looking grave, while the Sacristan told me this story of the Virgin! Came home to dinner, and then went down to the Pier in hopes of seeing the Des Vœux arrive in the steamer but they failed us and we strolled about till 9 - and ordered a carriage to take us to the Camp tomorrow - Selina and Julia went to a juvenile party at Lady Louisa Ramsay's Annies 9th birthday which they enjoyed much, dancing and games etc -.

Thursday 20th A boiling hot day - Kenelm and I went shopping and to enquire at the Theatre about the performances which are Tuesday Thursday Saturday and Sunday - after luncheon we drove through a boiling sun, and covered with [12] dust and sand - on the Calais road to the Camp at Wimereux

F/N 17, - Never did I see a more hideous country than that we passed through - Willows and rushes no hedges bad corn full of weeds, though I must acknowledge that the poppies and cornflowers were lovely. The hills were all covered with tents and mud huts in hundreds - those for the men were to hold 16 soldiers lying like pigs in the straw packed together - the officers tents looked tolerably comfortable, with tables chairs and iron beds and a shelf hung up - The band was playing about 50 of them very well - and in compliment to us struck up God Save the Queen and Rule Britannia We saw all their cooking going on in kitchens [13] dug out of the ground beef vegetables bread and salt made into pottage and served out in their cans - the French officers were extremely civil, brought us all seats etc - We had a still hotter and dustier drive home, but it was well worth seeing, and I very glad we have been there - On our return we found that two soldiers had been here intending to favour us with their company to be billeted here - but we had luckily made an agreement that our Landlord was to be answerable for all that, so we gave then some food and sent them to Monsieur Huget - After dinner we strolled down to the Pier, saw the steamer come in but no Des Vœux, and then the London [14] Packet go out, but there were so many wagon loads of fruit etc that we could not wait to see it start. Several fishing Vessels went out and an English Yacht - All the luggage is drawn up from the Customhouse by 6 or 7 picturesque fishwomen

F/N 18.

21st Friday Hot day again, but we went out shopping, and to arrange with Mlle. Blahelka for music lessons. Monsieur Delplanque came to give his first lesson in dancing, and takes great pains -. For the Evening we walked on the Capecure Pier lovely Evening - I met Walpole Ravenscroft to my surprise this morning - They are come to Boulogne for 6 months living at Capecure - I wish them joy.

[15]22nd Saturday Again a brilliant summer's day perfect for the corn - but in this narrow street we have not much enjoyment of it - All the morning was devoted to Masters. First we went to Mlle. Blahelka for music which she certainly teaches in the best possible style, and most agreeable - Then at 2, we had Signor Catalani for singing but he is only a second rate master - Still we hope to gain something from him. At 4 came Mme. Laston for drawing but she too is only second rate. After dinner we went into the market to buy some more flowers and then got into a Voiture and drove by the Calais road to the Vallais du Denaires so celebrated for picnics. [16] You go down into it by a horrendous steep hill into a pretty Valley where you are set down at a little Auberge

F/N 19, and roam at your leisure through the pretty shady walks, with a little rivulet running through it and a Cottage where you can be supplied with milk eggs etc -. We met an immense party of Donkeys and Ponies, and it seems a very popular resort from Boulogne - We met Walpole and his wife and child driving. He seems pretty and pleasing. Napoleon's column

F/N 20, was shown to great advantage with a background of sea and glowing beautiful sunset. Came back by the St Omer road up a very long hill again, and passed the Convent of Maquetra -.

[17] 23rd Sunday - Emily and I went up to Mr Grove's Church in the Rue du Temple - it is more like a Church than our barn with pillars and arches a painted window and large cross in the middle - Mr Grove is a good extempore preacher though rather too quick and abrupt - but he gave us an excellent sermon on the 23rd Psalm the uncertainty of life, and the comfort of dependence on the Good Shepherd. The Church was full, and intensely hot. In the afternoon we all went to Mr Furlong's and like him much. At seven we went out languishing with heat to the Capecure Pier and over hills of sand and marshes where we got a fine view of the Town and Pier a glorious sunset, and a steamer coming [18] in from London - returned at half past 9 but much refreshed by the air, tho' it is still very hot in the house - There was a ball going on at the Etablissement as we came by. The same at the Camp, Ducasse etc. which shook our Protestant notions on keeping the Sabbath.

24th Monday It was too hot almost to stir this morning, but they all enjoyed their bathing, and we went to a few shops - in the Evening started to Capecure to call on the Ravenscrofts, but could not find them so we went on up a very long and steep hill beyond the Railway Station quite equal to any of the Torquay or Welsh hills and after toiling up the dusty road, in company with a number of fishwomen in their holiday attire, and soldiers etc. [19] and groaning over the heat and dust, we at last arrived at the little Village of Outreau, which was very gay with flags etc. - there were fishwomen all riding in the roundabouts with little wooden horses, and others dancing in the yard of a Public house, which was not at all a place for Ladies, so we made our retreat as fast as possible and then found our way to the Grand Ducasse, where we had to pay a franc each for admission into an Orchard full of trees and very rough grass, with a bad orchestra in the middle and refreshments in a tent and seats all round. The orchard - There were a great many English, and a few French, some of whose steps were most elaborate, quite in the operatic style, and amused us extremely. [20] The young Ladies were asked to dance, but declined the honor - There was an attempt at illumination and fireworks, but those were probably be better later in the Evening, as we only stayed till 9, and came home quite exhausted with our long and dusty walk! The fisherwomen told us that they had danced on Sunday night till 12, and kept it up again till 11 on Monday - they seemed thoroughly too enjoy themselves -.

Tuesday 25th This morning Monsieur Laston gave his first drawing lesson and he seems to understand it much better than his Wife - Kenelm went at 11 to Folkestone to meet dear Freddy

F/N 21, who was to come from Newbold

F/N 22, today - Monsieur Laston came to give a Drawing lesson, and we like him much better [21] than his 'better half' - Monsieur Delplanque also came - After luncheon we called on Lady Louisa Ramsay, and saw all her 7 nice little fat fair children - Went to various shops for Patisserie, Music etc. - but the heat was killing with a Sirocco

F/N 23, East Wind - After our trio at dinner we all went up to Napoleon's column, some in a carriage and some on foot - Miss Cunningham - and four of the girls went to the top with a man with four lanterns - a fine view, but it was rather too late to distinguish - Louy sketched the Cathedral meantime. They made us pay two francs, besides buying a polished specimen, trying to impose as usual - I walked home with Louy, Julia Selina, and Emily - We did not turn down soon enough and made a long round, coming down through [22] all the fishermen's district - with their nets hanging up, and anything but clean, pleasant or respectable but we go on buying our experiences! At last we found ourselves in the rue Neuve Chaussee, and then soon got safe home - it was much fresher and cooler than last night, and we enjoyed it much.

26th Wednesday - Not so hot today Louy and I breakfasted alone, as Emily was gone to take her music lesson - Walpole Ravenscroft called this morning and Kenelm and Freddy arrived at 2. The latter had been rather sick as it was very rough - During dinner we were surprised by a visit from Mary Jane Forbes who is at the Hotel Des Bains on route to the Pyrenees. [23] She promised to come again to Tea, so we took a walk on the Capecure Pier which looked very ugly at low water. Came home to Tea, and was very glad to have a long chat with Mary Jane who is much to be pitied, knowing that her 3 remaining girls are also doomed to consumption / How more than thankful we ought to be for the health of our 7 darlings /

27th Thursday - Mary Jane brought her 3 delicate long nosed girls to see me this morning early as they are going off to Paris at 12 - they all look very delicate, and there seems no hope of their ever living in England.

F/N 24, They left Harriet at Folkestone. We went to see then off by the Railway but were not admitted to the Platform. [24] After luncheon we went to call upon Mrs Walpole Ravenscroft a very slim pretty woman and four very nice children the baby a boy - We then went down to the Port to see the horses disembarked by the same process as at Folkestone. To our surprise we encountered Mrs Law there, just landed from the steamer and on the way to Savoy with her Invalid daughter - After shopping a little we came home to dinner - after which we wandered up to the Tintelleries

F/N 25, and round the Ramparts etc. looked into the Cathedral, and there saw some boys practising Gymnastics which looked rather out of character -

28th Friday - Kenelm and I went out to take some rooms at the Pavilion Hotel on the Pier for the Des Voeux

F/N 26, [25] who were expected per steamer today / It looked and smelt rather stuffy and Tavern like, so we went on to look at the new one of the same name on the sands, and having a charming sea view - It has 112 bedrooms and two splendid salons it is not yet finished tho' inhabited and they were busy picking up the very prettiest beds carpets and papers I ever saw all from Paris and most expensive. There are four storeys with long Galleries and bedrooms and sitting rooms opposite each other thoroughly handsome and comfortable but it smelt so strong of paint we were obliged to return to the old one - . On our return home we found Mrs Law waiting to see us - going off to Paris, but - having lost a precious son and overtired herself in every way - Her invalid daughter was not with her Louy and I then scuttled [26] off to Mademoiselle Blahelka for out music lesson, and to the Lastons to choose some Drawings - then came Monsieur Delplanque and then we went out again shopping - After dinner walked up to the Tintilleries and a woman gave us some lovely Jasmine to make up for the loss of a ride in her roundabout on wooden horses, and we pursued out walk nearly up to the column. It was quite cold again this Evening. The boat came in without the Des oeux after all, and we conclude it was too rough, but it is tiresome having to give up the Apartments.

29th Saturday - A letter from Mr Des Voeux saying they were afraid of coming here on account of Cholera, but I believe only one or two drunken soldiers [27] who have suffered from it hitherto, and I trust it may not spread - I had a long letter too from Miss Kaye

F/N 27, just landed again from New York - charmed with her two month's trip, but still more charmed to be in England again. We went out shopping a little this morning, and then the Drawing and Singing Masters came; then arrived the little Ramsays and Ravenscrofts to tea. This is also dear Emily's birthday and she received various nice presents, but we defer our expedition till Hugh's arrival on Monday I hope. - The children came before 6, and played at games till 8, when they all dispersed and we walked up to the Tintelleries and home by the Rue Siblequen, grand preparations for the fair and for a bal chernpetri on Monday.

[28] Sunday 30th A close hot morning with a heavy shower or two, and it feels like thunder, which seems to have been violent at Paris - We had a new preacher this morning / Dr. Moren or some such name / with a very broad dialect I thought Scotch but they say Irish - We none of us liked him at all and he gave us a very long sermon Text 'What say ye of Christ' but part of it was clever and striking - the words 'Christ' and 'Messiahs' both mean Anointed etc. - In the afternoon we had a very fair sermon from the Curate, and not in the Keenlike style of Dr Moren - after dinner we walked up to the heights met no end of military, had a fine view of the sea and the sunset and the Pier, and they seem to be building a large Reservoir there. It is a principal road to the Camp I [29] fancy, as they could not get round by the sands at high water - We came back by the Rue de la Tour d'Ordre which led us to the Place Navarin - At the top of it there is a large cross erected by the fishermen to be seen from the sea and also a large Church of St Pierre into which we went, and found a number of the fishwomen listening to a sermon in French, which seemed to be about the Cholera, but I only caught a part of it -. Came home hot and tired at 9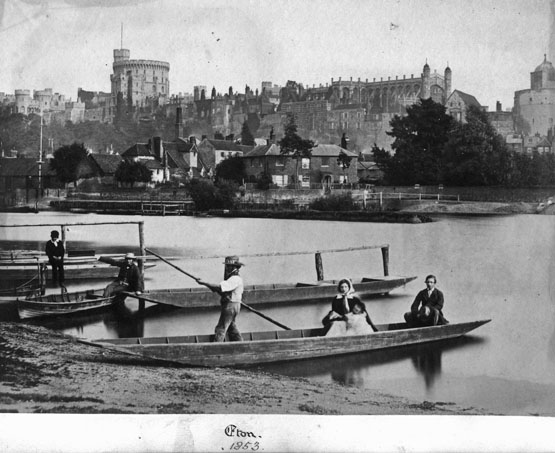 31st Monday - This was a red-letter day for us all in the expectation of our dear old Hugh's arrival from Eton

F/N 28. We went out shopping in the morning I bought rings for Louy and Emily and took some tickets for a sale in the Hotel du Nord for the Viellierds

F/N 29, of Boulogne - Kenelm took 7 tickets at 1f each, and we [30] attended the sale at 3 - it was rather amusing - there were about 2000 tickets and 150 prizes laid out on a table - They called out the names of those who had gained, and Mary came in for a very nice tea chest, which was rather lucky. From thence we adjourned to the Pier to see the steamer come in, and soon our darling Hugh made his appearance and was eagerly seized upon by all the family, and shewn over the house etc. - After dinner we all went up to a children's Ducasse in the Tintelleries which was really very pretty - A very very band on the centre surrounded with poles and flags, from which were suspended festoons of coloured lamps. There were fireworks not very good but always gay, and the lively French people [31] dancing with all their hearts, in all directions, up and down hill through dust and long grass and every obstacle -. Then there was the roundabout of little horses and carriages, which looked very fascinating for children; but made some of them sick I am afraid. Hugh and Freddy took a turn and liked it very much - We came away at half 9 and we were tired of waiting for the grand show of fireworks - Luckily the Evening was perfect for the purpose as long as we stayed - but about 10 o'clock it began to pour in torrents, and I hear the fireworks could not take place, and many people were detained till 12 being unable to get carriages or to brave the elements - it thundered and lightened considerably when we went to bed -

[32] August 1st Tuesday - Went out shopping and saw a Regiment come and draw up in the Place d'Alton - After luncheon we took Louy and the boys to the Camp de Gauche near a place called Equithen about five miles from hence - through Capecure, up the steep hill of Outreau, and turned off into a very sandy hilly lane, which led us at last to the Camp. There is a very fine sea view and the air deliciously fresh and pure - the soil perfectly dry and sandy like that at Wimereux, but being on a large flat tableland was much more regular and neat. Some of the men's tents were quite low and flat, and must have been very stuffy for six men to sleep in - particularly in wet weather. There were several streets already named 'Rue de Petersbourg' de Mascon' de Peneland etc. [33] some were busy edging them with grass and had made little gardens of bluets and other wild flowers - other men were carrying small trees to build their barracks or mud huts, thatched with straw for the winter - some were mixing the mud, others building, some cleaning their muskets and most of them busily employed - there will be 10,000 men there when all are arrived, and a more healthy spot one can hardly imagine. We met with a most civil officer who explained everything to us, and shewed us his own most comfortable tent with an armchair, lamps, toilet bottles, and actual luxuries - They seem all very happy and contented, and their kitchens struck me as particularly neat and well arranged, with wooded roofs a nice stove and their cans stowed all in [34] great order. In short I was quite delighted with the whole arrangement, and much prefer it to the Wimereux - We met the Ravenscrofts there, and they led us by a different road home, still worse than the other, but with fine sea views and still leading down the steep hill of Outreau -. After dinner we went down on the Capecure Pier and the children went up the Lighthouse. The sea breeze was delightful but cool.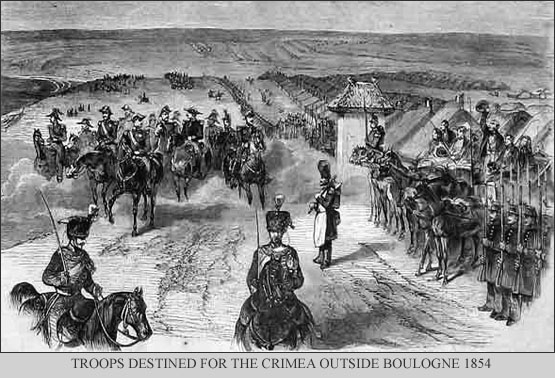 August 2nd The Ravenscrofts called, and we went marketing together and bought some young turkeys - the first is quite beautiful and flowers too - After luncheon we went down to the Pier to see the steamer come in - Aubrey and Stephen Cartwright

F/N 30, on board - the former going on to Paris with Dr. Goulburn

F/N 31, tomorrow. Monsieur Brunet / the French master / came to the boys - I like his style of teaching much - [35] In the Evening went out to buy handkerchiefs for Freddy and on the Esplanade -.

August 3rd Dr Goulburn, Aubrey and Steven Cartwright called - we took a carriage and went to Maquetra, hoping to see the Convent of the Visitation, but they told us it was never shewn to anyone - so we came away much disappointed. We however consoled ourselves by going into the Cemetery, which is extremely pretty and touching - such pretty flowers Cypresses Garlands etc all showing how much the memory of the departed is respected - Mary and Freddy went with Anne and Doswell to see the parting fete and dance given by the officers at the Camp to the Boulogne people - There were crowds of smart people they said and would have been a gay scene, but that all was spoiled by the rain which set in just as they began to dance at 5 [36] and they all took shelter in the mud huts. Our party did not get home till past 9 rather wet and uncomfortable -. When it cleared up about 8 we walked down to the Pier, met Stephen Cartwright and brought him home to tea poor fellow he looks very dull and solitary -. Kenelm has one of his heavy colds unluckily.

August 4th Lessons from Mademoiselle Blahelka and Delplanque - At 3 we went in the rain to a concert of Mademoiselle Blahelka's pupils, some of them played magnificently, Miss Nugent and Mademoiselle Sauvage - but it was rather tedious hearing one young lady after another - It rained hard all the Evening, so we could not go out, but the family party were all very merry singing laughing etc. the boys keep us all alive -. A letter from Mr Gooch announcing the birth of a son and heir but I hear it did not long survive.

[37] August 5th It has poured the whole night and almost incessantly the whole day, but we got out a little, and walked up in the rain to the fair, which we found all in a state of unpacking, but promising to be extremely pretty and amusing, and all the little bijouterie etc wonderfully cheap. We got very wet, and poor Stephen came to dine with us at 7 - he is very forlorn and it is just the anniversary of his poor wife's confinement and death!

F/N 32. Much interested in Lamertine's Life of Nelson to whom he is wonderfully just for a Frenchman.

August 6th Sunday Showery morning, but it turned out quite fine, and we went twice to Church - very good sermons from Mr Furlong - Mr Ramsay was at Church. Walked on the Pier after dinner, met the Ravenscrofts, Goulburns etc. it was crowded with all classes of people - smart Ladies, soldiers, fishwomen and blind fiddlers! -

[38] August 7th Went in the morning to the Capecure Pier to see the boys bathe but they were gone and we saw a man catching grey mullet with a round net. We then went up to the fair which was very hot and tiring - Stephen Cartwright dined with us, and we afterwards walked to the end of the pier, and met Sergeant Goulburn and Miss Divesmes, and I was thoroughly knocked up and obliged to go to bed feeling quite ill.

August 8th Did not get up till 11 I felt so aching and ill, but better towards evening, and went out with Kenelm to Mr Pag's, and then to look at a large house in the Tintelleries, which Steven (sic) was near taking for us, but it looks so dirty and ill furnished we were very glad he did not, tho' the lookout was certainly charming towards green hills and the sea to the left. Kenelm and the boys and 3 girls went to the Play which proved rather long and tedious I - [39] stayed at home with poor little Selina who had a violent bilious attack and became very feverish towards night so we sent for Dr Scott, who is a very gentle satisfactory man, and gave her some Calomel

F/N 33, and James's powder

F/N 34, etc.

August 9th Selina is really better today but still in bed -. We all went to the Fair to buy something for her. Mr Delplanque and Catalani came Stephen Cartwright called - After dinner the boys drove out in a boat and we went a drive to Pont de Brique along the banks of the Liane and really a pretty wooded valley for this ugly country. It is called Vertvore - we crossed a bridge and a Railroad and came back by the route de Paris, passing two or three large formal Chateaux, and you have a fine view of the Town and Cathedral with the River winding at its feet - As it was only 8 when we returned, we walked on [40] the Pier with the boys, and met the little Ramsays - Selina much better -.

August 10th Walked on the Port etc. found the tide unusually high quite up to the Etablissement and looking in its greatest beauty -. In the afternoon we all went to the Museum, which is really a very good one - a large collection of birds, and a very respectable gallery of pictures -. It is open every day from 10 to 4 but was very empty. In the Evening we went up to the Fair, and made great purchases, and some marvellous bargains - An inkstand for 3 sous etc.

F/N 35.

August 11th Went to Mademoiselle Blahelka and after luncheon in a carriage to call on the Maxwells in L'Enelos de L'Eveche - then down to Capecure to call on the Ravenscrofts, but they were just going out, so we drove up [41] the hill on the Portel road, from whence you have a very fine view of the whole Town and 20 windmills and on the other side a fine sea view and charming breeze - Mr Ramsay called this morning, and I am sorry to find from him that there have been several deaths from Cholera - One of a friend of his Mrs Power who was near her confinement, and suffered the Diarrhoea to go on too far without checking it - There have been several more cases in the Tintelleries, tho' it is reckoned the most healthy part of the Town. After dinner we went with the boys to row us, in a boat from Capecure, and rowed down the Liane, which was very pleasant, and we had a good view of the Town and the Hotel de Brighton etc. [42] afterwards took a turn on the Pier which was most disgustingly low and inodorerous

F/N 36, and nearly made us all sick, trying to get a little fresh air.

August 12th Hot day again and no end of Masters, Brunet, Catalani, and Delplanque. Mrs Earle paid us a long visit - she is at the Hotel du Nord on her way to Boulogne / Dieppe I mean / I did not go out in the afternoon is was so hot - but after dinner we all went up to the Fair, and then the Ramparts and into the Cathedral to see the preparations for blessing the new Bells tomorrow. We took two tickets at 5 francs to see the Ceremony, and Stephen Cartwright is to go with us - he dined with us today - I hope it will answer our expectations. -

August 13th Sunday - A very hot day again and we found it intensely so in Church. [43] Selina and Julia were obliged to go out and Hugh was rather indisposed - The Church was overflowing, and we had an excellent sermon from Mr Furlong on the parable of The Unjust Steward - About half past 2 Stephen Cartwright and I went up in a Fly to the Cathedral of Notre Dame (see picture right), and were shown to our places, in a tolerably good situation quite close to the small bell.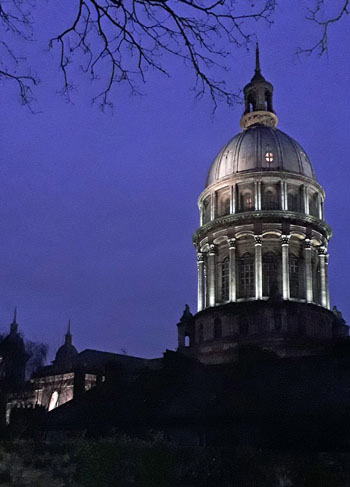 After waiting about half an hour the Military band struck up some air I think from Guillaume Tell. Soon after the Procession came up the knave consisting of the Bishop of Arras / as the Pope's representative / attended by a number of Priests, and boys in red frocks and sashes - The Bishop himself in a gold dress with a mitre to match walked up to his throne - a red velvet and gold canopy under which he [44] sat - some chanting of Psalms etc. then begun, and then an old and ugly man got up into the pulpit opposite the throne and without prayer or sign of devotion, launched out into a vehement ecstasy (sic) meant for a sermon on the wonderful bells - how all hearts were to beat when they heard them once more resound from that spot, where they had been heard centuries ago - and which would be heard by all the spirits of the departed, Philip Augustus, Charles 5th and the Queen of England etc. - how they announced joys and sorrows in births deaths and marriages, and how pleasing their sound was to the Holy Virgin, and much more rhapsody that I cannot read - his accent was very provincial, and I understand he is a Gascogne

F/N 37, which accounts for it. After this he rushed out of the pulpit without further ceremony - and then again [45] all eyes were directed to the Golden Bishop, who with the gold crucifix and crosier carried aloft before him descended now to the Great bell and after pouring some blessed salt into the Holy Water, washed the bell all round with it and then wiped it and then proceeded to do the same to the baby bell! - they were both supported in the air on a tripod decorated with flowers and pink and white calico and dressed in a beautiful lace petticoat which was removed when the Bishop attended by the Godfather and Godmother came to bless it - he then again went round and anointed it with Holy oil and put incense under it - this is supposed to preserve it from all evil spirits, thunder and injury of any sort. - After this the Bishop and Godfathers all made the bells resound [46] several times, by [striking] pulling a cord - After a few prayers and benedictions in Latin, and I believe a Chapter of St Luke about Martha and Mary / of which I did not see the appropriateness / the Bishop returned to his throne, and delivered a sort of exhortation of which I could hear but a few words, he spoke so low and indistinctly - then some more singing and finally a solemn benediction after which the Military Band struck up an Opera air - altogether it was a very curious sight to see for once but it seemed to me all pomp and no devotion either in the congregation or Priests - and the sermon a mere rhapsody - I wish it had occurred any day but Sunday but as it was my only chance of ever seeing it I could not resist it - Stephen came home to dinner, and we went to the Capecure Pier. [47] Walpole Ravenscrofts called in their Evening drive to enquire after the sick who are all well.

August 14th There was a shower in the morning, which frightened us from our picnic, but it cleared, and after calling on Lady Louisa Ramsay, we took a carriage and drove to Portel which proved to be a large but very dirty wretched fishing Village with a new and un picturesque Church - The waves were lashing up charmingly and we enjoyed the strong sea breeze but were tormented by a host of dirty crippled children begging for sous, who persecuted and followed us everywhere. We went up on the cliff and towards the Lighthouse and then back to the other side where we found ourselves on a down, where some fishwomen were drying their nets -. Being in search [48] of the picturesque we asked one of them to stand for her picture which she did, with two of her children, but seemed very dissatisfied when we gave her a franc for her trouble, which we though quite sufficient - so we came away rather disgusted, followed to the last by our little persecutors - The result was, that we voted Portel prettier at a distance than near - an illustration of 'all is not gold that glitters'. The sea looked so tempting at high water, that we got out at Capecure, and walked to the end of the long Pier, for which we were amply rewarded by the fine waves and dashing spray, and took in a stock of fine air. Saw the steamer come in, after a long and rough passage, and then home to dinner. After which we went up to the Cathedral, which is still decorated as yesterday, except the Bells, which are [49] removed to their exalted station. Walked round by the Tintelleries where they are also preparing for a grand ball tomorrow, and poles and arches all up the Grande rue for this grand Procession of the Virgin! In the haute Ville we met Mrs P. R. Augustus who is in a lodging at Capecure. I hear Lord Joscelyn has died of the Cholera in London!

F/N 38,

August 15th This was a grand jour de fete for the assumption of the Virgin and also the Emperor's birthday, and luckily it was a very fine day, tho' there had been rain in the night - Monsieur Brunet came to the boys at 8, and Monsieur Laston at 10 - so at 11 we went to St Nicholas to hear high mass and the Te deum for the Emperor. The Church was crowded to excess, but with great difficulty we got on chairs, and saw the knave lined with soldiers all in grande livree. It was [50] like all the other ceremonies we have attended full of pomp, but very little devotion, people crushing in and out in all directions, and the officers shouting out to their men to lower arms etc. in the middle of the service - I found myself next to an English Catholic who persuaded us to go and hear the English sermon at 12 the last of the 'retraile' series which she assured us would be most eloquent. We waited some time while various little bells rang, and the Priest at the altar seemed to be drinking up all the Wine, after which began our English sermon which I thought very unsatisfactory and unconvincing - he tried to persuade us that the pillar of fire and the pillar of cloud that attended the Israelites in the Wilderness, were no other than the blessed Virgin herself - quite a new Doctrine to us - he then went on to say [51] that there were proofs in scripture that our sinfulness required the mediation of a third person as with Moses Job the Angels, Saints etc. that our Saviour was always subject to his mother and that therefore she was all powerful in heaven, etc., and that it was our duty to pray for her for her intercession in every case - In short all his arguments were futile, and not to be proved from scripture, and I came away a more decided Protestant than ever! There were festoons of evergreens all the way up the Grande rue and a triumphal Arch of the same near the top -. After luncheon we all adjourned to the Liane where there were some rural sports going on - men racing in tubs with paddles - then walking along a greased pole to catch a flag at the end, of course continually dropping off into the water, and swimming [52] round to their covered boat, to try their luck once more - two only succeeded in performing the great feat -. The next exhibition was a Duck hunt, quite different to that at Cowes

F/N 39, - a cargo of real Ducks were taken out in a basket and thrown in all directions into the water when about a dozen men and boys plunged in after them, and swam with all their might to catch the poor animals, who flew, dived, and did their utmost to escape their pursuers - but in vain for they were all captured at last, and carried about in triumph poor things. It was anything but a jour de fete for them! These diversions lasted till near 4 when the grand procession of the Virgin was to begin - We took some of the children up to Lady Louisa Ramsay's a capital situation for seeing all down the Grande rue - the rest of us went to Admiral Knox's who has a [53] house 14 Grande Rue - There we found the old Admiral and his Wife and daughter and a Mr Goff who married Lady Adelaide Knox a very pretty pleasing person - After waiting a long time we began to despair of the arrival of the procession, but at last we ascertained that it had gone round by the Tintelleries the Rue Sallequin and was to return up the Grande rue - soon the sound of music proclaimed its approach. First came a great Red Beadle to clear the way and then a long run of Priests, Nuns white black and grey of the Various orders - Sisters of Charity with their schools - then fishwomen most picturesquely dressed in scarlet petticoats white bodices and pretty caps and earrings - then about 50 young girls all in white with Veils and white bouquets and some carrying Lilies in their hands - all supporting by white ribbons a silver image of the Virgin in a boat with a [54] large bunch of Grapes - then another turn of English Catholic girls in white and gold Veils bearing another Virgin then the Bishop and Priests carrying the Host the Crosier and Crucifix born before him, and blessing the people as he went with his goggle eyes looking enough to frighten them all - Upon the whole I must say it was the very prettiest and most picturesque thing I could have imagined and I would not have missed it for worlds!

F/N 40. We came home to dinner with Stephen and then rushed down to the pier where the Military band was playing, and a great crowd assembled - after which we walked home with the Ramsays and up to the top of the Grande Rue to see the Illuminations - the Prefet's house and the Eagle and Legion d'Honneur were very brilliant, and the ramparts lighted with torches - returned home quite [55] exhausted with our day's exertion.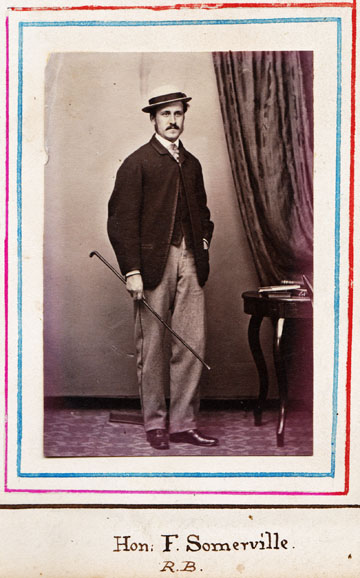 August 16th A pouring morning till near 2 o'clock, when it came out fine and we all went down to the Pier to see the steamers go out and come in from Folkestone - Stephen's heart failed him but Miss Lindesay embarked in spite of the very rough sea and stormy looking sky, which however blew over at last. The steamer went out towing a yacht which quite dipped her Bow Sprit in the water, and washed over the steamer as well as the Capecure Pier. Hugh and Freddy went out to bathe, but it was too rough to swim -. Came home to a late dinner expecting Stephen but he never came - The children all sang and made merry -.

August 17th Went over the new Railway Station which is very handsome gothic building and the carriages handsomer than ours - [56] Went to the Rue des Profits, to try to get a french paper with the Procession but did not succeed -. Mrs Earle came and sat above an hour, and also Captain and Mrs Knox - it poured with rain, but we employed our time with Monsieur Brunet and a work woman - when it cleared we strolled up to the Pier, which is nearly over. Stephen came to dinner at 7. Hard rain again -.

August 18th At 11 Kenelm and the boys and Emily hired a Pony carriage and went to the races Wimille, where they stayed till five, very well amused. All English jockeys and plenty of carriages. The Ravenscrofts Ramsays etc. were there. I went to Mademoiselle Blahelka with Louy and Mary, and then we all went down to the Pier at high water, and at last saw poor Stephen embark for Folkestone. It was tolerably calm and the packet full. [57] We stayed some time on the Pier to see the London steamer come in. Then up to the Rue des Papots to get a french newspaper -. The little ones went up to meet take leave of the Fair which departs tomorrow -. I forgot to mention that last night during dinner, another cavalry soldier came to be billeted on us again - and after giving him some supper we sent him off to Monsieur Hugets -. It is very cold this Evening, and we should have liked a fire -.

August 19th Four Masters occupied us all the morning, but we went to take a last lingering look at the Fair, and had our likenesses taken for 3 sous. The woman who came to try my corsets amused me much by her firm belief in the protection of the Virgin, which is to preserve it from Cholera and every other [58] evil / and the reality of the legend of her arrival here in a boat black, and the impossibility of destroying the image by fire or any other means, and that it was still the same that was carried in triumph on Tuesday - but as that was of silver, I must venture to doubt that fact. - Monsieur Brunet told us another anecdote or rather superstition that the fish called St Pierre / our Haddock / has the mark of a finger and thumb on it in consequence of St Peter, in his want of faith when walking on the sea having caught hold of one to save himself, and leaving the mark of his fingers on it! So much for romanticism. After luncheon some of the party went to the Fair, and other to the Pier / as it was nearly high water / to watch the indefatigable bathers, and to see the Folkestone packet go out - 140 passengers - Walpole and his pretty but stiff wife paid us a visit [59] and Dr. Scott came to see Hugh, but did not find much the matter - We called on Adelaide and Mrs Knox and Mrs Earle who is gone to Paris or Dieppe - Captain and Mrs Maxwell invited us to dinner today, but we preferred the fresh air to L'Enelos de L' Eveche! -.

August 20th Sunday Very fine day and not hot -. Went to Mr Furlong's Church which was very full, and he gave us a most excellent sermon for his Church which is supported entirely by voluntary contributions and was formerly a Convent. They collected about 700 francs - and I am sure he richly deserves to be supported for it is a great advantage to have the service so well performed in a foreign land, and I wish we could transport him to Leamington. After Evening service and dinner, we went on the Pier which was crowded [60]as usual with French and English, soldiers and fiddlers etc. - saw the London steamer come in with 29 horses, and a lovely sunset - I am very sorry to see in the paper the death of Captain Rowley of Cholera at Mr Angerstein's -.

August 21st At last we made up our minds to undertake the picnic for Emily's birthday, which has been so long projected, but put off on account of illness, heat or rain till now -. The place selected was a very small Village called Soucerain Moulin a little way off the St Omer road which is rather pretty for this country, hills and wooded Valleys and the corn all cut and looking very prosperous -. When we arrived at our destination we found there was no public house or place to put up the carriages - one with a pair of Grey Ponies, the other with one black one driven by Edward - Kenelm [61] Louy and I went in the latter and a very squeezy back seat we had - in fact it was actually a dog cart - the boys with Emily and Mary went in the other. We had some difficulty in finding a suitable site for our encampment but at last we fixed upon a spot under some trees, near a little muddy brook, which they call the river Wimereux. Here we spread our tablecloth in peace and enjoyed our chicken and veal pies and Mr Jeger's almond cheese cakes etc. During our repast a picturesque shepherd came up with a flock of sheep in a sky blue broad brimmed hat with a sheepskin dress - We gave him the remains of our luncheon and some Medoc Wine, with which he was highly pleased -. The sheep have most curious long ears and tails, and do not look at all the same animal as our Southdowns -. After our repast [62] we departed, some to follow the banks of the little river, while Louy and I went up the hill on the road to Wimille and had a very pretty view of the Valley and heard the drums and trumpets at a distance / very tantalising / On our return we found the carriages ready and took our way home again - but visited the Napoleon column on our way as the boys had not seen it. Louy and I went on down the hill to the Chapel of 'Jesus Flagille' where there were some tallow candles burning and it is crowded with prints and figures of saints, boats hung to the ceiling and all kinds of offerings from the fishermen, as miraculous cures are supposed to have been performed there -. We there met Selina and Julia on their return from the Camp with Anne and Doswell in two Donkey chairs. We then came home and took a little walk through the fishermen's streets and [63] up the rue de l'Hopital and then home to a late tea, books and journals -

22nd August Bright day, and a fresh breeze, and we thoroughly enjoyed the sea air, went down to the pier at 11 - when it was high water and a strong surf - The girls bathed, but the boys voted it too rough for swimming - we saw the Folkestone Packet come in, and many pale and wretched beings - We sat on the Pier till 1 - squalling and hail? as usual - after dinner Selina and Julia went with the Ramsays to the Vallee de Danaeres, and we on the sands which are charming at low water, and up by the Cliffs, which is the best way to Honveult Camp -. We met Mr Goff and his sister, walked with them. Letter this morning from Barford, Judy Mrs. William C and Miss Chapman

F/N 41 -. The Cholera seems to be much worse in [64] England than here, and the weather too I think, so we may be thankful though we have many a growl at the dirt and dust of this place -.

23rd A fine breeze again, and I went with Louy and Emily to sketch from the Capecure Pier, and strolled on to look at the stables which are building for the horses of the Emperor's horses. Most of the afternoon was passed in interpreting between Mrs Ewen and her Admirer, the French cook from the Hotel de Bruxelles opposite, who came over to teach her various little arts in Omelettes, Bugnet souffles. The Evening was cold and windy, so we dined late, and walked again to Capecure rope walks etc., and round by the sands very low water and the dust blinding. Walpole Ravenscroft called -.

August 24th A letter from Mr Gooch today - his Wife just recovering from [65] her confinement, and the loss of her baby. It rained hard all night, and this morning till 11 when the children went to bathe and Hugh and I to the Pier to see the packet come in. The wind was tremendously high, and the spray dashing over the Capecure Pier in fine style, half drowning the few people who ventured on it! I never saw it so rough here - Selina and Julia went with the little Ramsays in the Pony carriage to the Camp, but the band did not play. We dined late again, and I called on Lady Louisa, who is every hour expecting her confinement

F/N 42 - found all the children at tea - Walked round the Ramparts and into the Cemetery.

August 25th Lady Louisa Ramsay was confined in the night of another daughter, which I am sorry for, as they have already six, and only one son - but her own safety is the principal thing and she must have managed it very easily [66] Boulogne Sur Mere entree du Port [67] most of the time - but we rushed down to the Pier to enjoy the high water and see Emily and Mary bathe -. It was no near so rough as yesterday - we were kept in till 4 interpreting to the french Cook, who is going to set up as Restaurateur at the Wimereux Camp. We then went to the market where the fruit is quite a sight, and up Grande rue to the petals Arbres, and back through the haute Ville. Colonel Des Voeux called he is come to take a house for some time - Mrs F. Angerstein called too and Mrs Knox and the Maxwells.

Continues below - click website to return to the Home Page



Website: Click Here

ADDITIONAL INFORMATION



1854 Journal Continued

(No entry for the 26th)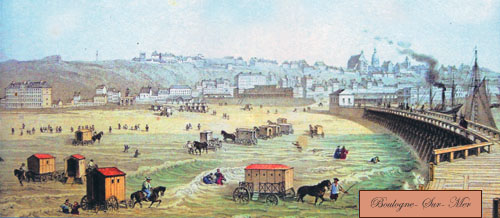 27th Sunday Much warmer today. The Church was very full and we had an excellent sermon from Mr Furlong took a little walk after Church, but the smells on the bridge were intolerable. To Church in the afternoon and another good sermon - dined early, and took a walk after, up the Canal des Tintelleries, and up a lane to the left which led us up to [68] Colonne de la Grande Armee [69] the top of the Downs and into the road to the Colonne

F/N 43, - came back by rue de la 'Tour d' Ordre' which leads down to the Etablissement and home - it was very hot and close, but there is a beautiful view of the whole Town from the top of the Downs, and really pure air which is scarce at Boulogne -. It is very disagreeable hearing all the cracked organs about, the shops open, dances going on and Plays etc. and no respect or rest for the Sabbath!

28th August Very hot again today and I did not get out much but called on Mrs Angerstein at the Hotel du Nord the man cook came again and we devoted ourselves to Brioches and Meringues. Kenelm dined with Mr W Ramsay en garcon, so we all dined at two and ordered two Donkey chairs and 2 Baudets

F/N 44, to take us all to the Vallee de Danaeres they never came till half past 4 and then evidently quite knocked up - however we six started up the rue des Papots and struggled on as far as les petits Arbres. [70] Picture Etablissement des Bains [71] When in the middle of a lively trot down lay the Donkey, and positively refused to get up or go on but lay prostrate in the dust - upon which we all got out, and declared our intention of walking. The Donkey boy kicking and thumping his poor Donkey, till some Gentleman came up to remonstrate -. We offered to pay them a franc or a half for the quarter hour but this they vociferously declined to take, and required the full payment. I remonstrated, they were impertinent and we finally settled to call upon the Master and state the case - How to amuse ourselves was now the question as it was too hot for a long walk - at last we determined to go down the Grande rue to the Place d' Allon and take a carriage to the Valley, which we did, and enjoyed the drive very much, and a nice shady walk among the trees, and by the meandering brook - Saw plenty of Donkeys and picnic people playing at Blind Man's Buff - We came home by the light of a lovely young [72] moon and a glowing sunset promising hot weather - the Harvest is going on gloriously - got home by 8, and had an extensive tea altogether. Mary and the little ones went on the Pier in preference - Kenelm came home at half 10 - having met an agreeable small party of men - Colonel Hill, General Griffith Captain Paken R.N. and one more -

29th August Very hot summer's day. Monsieur Delplanque came, and I did not go out till after luncheon, when we took a carriage and drove to the Chateau d' Honvault

F/N 45, just at the entrance to the Camp on a hill near the sea and the forts - it commands a most beautiful view of the whole Camp to Wimereux and Wimille thousands literally of mud huts and tents extending all along the coast on the heights as far as the eye can reach, and one fancies oneself in some Indian encampment - they have built a pretty little [73] Chapel for Mass with a wooden Altar and crucifix which the girls sketched and it must be an interesting sight to see the 7000 soldiers assembled round it singing - the Castle they sketched from a farmyard as it now only forms a part of a farmhouse but was formerly an important Chateau in which Henry the 8th lived when he was here, and containing a Well into which the image of the Virgin was thrown, and miraculously discovered 40 years after in 1590 - We passed again the Chapel of Jesus flagelle - Colonel and Mrs Des Voeux called today - their girls are both ill - they soon gave up their house near the Liane, and have taken one in the Rue Neuve Chausser.

30th August Brilliant day again, but too hot to do anything but a little shopping, buying artificial flowers etc. which are very cheap - Dined at five and all then went to the Capecure Pier and sands. The sunset, the moon glistening [74] in the water, and a really very tolerable little band of music made it very enjoyable, and we stayed till 8 when a thick fog came on, promising a hot day tomorrow - A letter from Mrs Somerville full of anxiety about Aubrey, as there is so much illness on board the Hannibal 180 on the sick list, but they hope he will be in England soon with some Russian prisoners.

August 31st Called on the Des Voeux and General Griffith all out - Dined early, and went to the Play The Barbier de Seville and 'Les poces de Jeannette' - the former was better performed than I expected though the french language is very inferior to the Italian for Busse or anything else Mademoiselle Erembert acted Rosina - A truly french singer thin wiry and florid voice, She was also Jeannette - a foolish little piece, in which the Fiance takes fright and runs away from his marriage. We did not get home till 11 tho' it was not over. I never suffered so much from heat. [75] The Emperor Napoleon 3rd arrived just before 8, with his Cent Guards, Guide Gens d' Armes etc., but we did not see him -.

September 1st Brilliant day again. We went up en voiture to the Haute Ville to call on the Maxwells, and the girls sketched the Citadel where the Emperor was once imprisoned - We walked back, but I did not feel well enough to go on to the Pier / being rather bilious / but remained quiet to save myself for the Evening - Prince Albert's horses all arrived ready for this grand Review which I suppose will take place on Wednesday - it is a great pity we have arranged to depart just the day before so fine a sight, but they all seem to wish it so I must submit nolens volens, tho' we have our house till the 12th. The little Ramsays came to tea and walk with the little ones - I could not go amongst them, but they seemed very merry and happy - At 8 o'clock [76] Kenelm and I and the 2 girls and Freddy went to Admiral Knox's where we met Mr and Lady Adela Goff very nice people. Then came a strong musical force consisting of Osborne and his wife / a very pleasing person / and small boy - his sister Mrs Hampton, a beautiful singer - Herr Reichardt one of the German opera at Drury lane who sang 'Sperto Gentil' and two or three Germans with a fine voice but bad articulation and a friend of his Mademoiselle Sedletyck or somesuch name, who also sang with a fine voice, but too loud and harsh. Mrs Osborne played the 'Evening dew' and a piece called 'The Bananieres' by Gottseclack I think, most charmingly. Osborne then sang too comic songs. The Bunskins in the Ballie and 'I'm not myself at all' very fairly - but they were not equal to his playing which is excellent before 11 we returned, leaving all the performers discussing a good supper.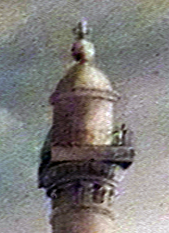 Pictures left and right - Napoleon's circa 1830 Column as it was when Lady Somerville saw it and the original top. This was subsequently twice replaced with Napoleon's statue in 1841 and 1962; the second time allegedly following being shot at by British pilots returning home during WWII. The column was originally intended to commemorate a successful invasion of England, an invasion that never occurred.

[77]September 2nd Delplanque and Laston came to give their last lesson -I still felt bilious, but we took a carriage and went up on the Calais road where it was said the Emperor and King of the Belgians etc were to pass at five o'clock - in vain we waited and watched for 3 mortal hours in a cold East wind talking to the Des Voeux, and Ravenscrofts, and Mr Ramsay / who were all in the same scrape / till the sunset and dusk came on when we returned home to eat the dinner of disappointment, which of course disagreed with one - 'Put not your trust in Princes' be henceforth our motto as well as King David's -.

September 3rd I did not go to Church in the morning fearing the heat but unwilling to lose Mr Furlong - about 10 the Emperor and suite passed on his return from Calais, and Freddy was [78] the only one who got a good sight of him! We all went to Church in the afternoon, and had a very good sermon from Mr Furlong - Dined at five and then went on the Capecure bridge, where we at last saw the Emperor, and Prince of the Belgians, the King having just embarked for England. Having seen this grand sight, and soldiers of every costume walking about, for the Town / now swarms with them / we went to the end of the Pier, where the moon was shining gloriously on the water, and we saw the steamer come in at 8 - but there is still a cold East wind -.

September 4th Very hot indeed, but we went out to perform our last shoppings etc. spend our last francs, and called on Mrs Angerstein, and the Knoxs where we again met the Goffs - I was lucky today in getting a good sight of the Emperor and the King of Portugal and Duke of Opporto on their return from the Camp [79] in three carriages and four, and again after an early dinner we rushed to the Railway station, and got into the Ravenscroft's carriage, from which we had a good view of the whole cortege of Guides and imperial Guards - who escorted the King to the Railway for Amiens and Ostend - Then once more to the end of the Capecure Pier to take our last look of the sea and the moon and all its beauties the sunset was glorious, and never seemed to fade.

September 5th A brilliant morning again and we were all up at 6 - a standing breakfast / in haste like the Israelites / of coffee and bread and butter, packed all our luggage off by the fishwomen and then walked down to the Port which was all most gaily decorated with flags and arches in honour of Prince Albert who was to arrive today at 10 with five steamers to visit [80] the Emperor - It was very tantalising to leave this gay and interesting scene only two hours before it took place but the fates and boys decreed it, and I bore it / I thought / with exemplary fortitude - We had a very favourable passage, bright and pleasant, and the children suffered very little from sickness -. Got to Folkestone under the two hours and with difficulty got rooms at the Hotel leaving Hugh and the two little ones and Miss Cunningham to dine at the table d'hote and drive Donkey chairs. Kenelm and I, and the three girls drove over to Dover and dined in the coffee room at the 'Lord Warden' the great new Hotel built close to the new Pier, and almost in the sea - the rooms are very fine, and it is immensely full but our dinner was bad and dear, and we came to the conclusion that it is not [81] near so good in any way as our old friend the Pavilion at Folkestone. While dinner was preparing we inspected the new Pier to form the harbour of Refuge - it is a horrendous undertaking, and must take years and mints of money to finish, but it is already a protection from the westerly winds - During dinner we were all excitement at seeing a line of battleships pass, and finding it was 'The Hannibal - with Aubrey on board on her way to Brest to land her Russian Prisoners of War there and then return to England - the illness on board is frightful 40 men have already fallen victims to Cholera etc.

F/N 46. After dinner we revisited all our old haunts of 8 years ago - along the Marine Parade Crescent and on to the little jetty near the cliffs then into the Town to buy some peaches from Mr Maye, the best and most honest [82]

Picture - Bafse Ville, Boulogne sur Mer

[83] of Green Grocers, and about six we returned to Folkestone, found that the children had been to Sandgate dined at the Table d'hote and enjoyed themselves much - In the Evening we were surprised by a visit from Colonel Harding of Cheltenham who came down to attend the funeral of some old friend - The moon was splendid on the sea - we went to bed early quite tired - Mrs Ewen came over by the Evening packet very sick, but in raptures with the sight of Prince Albert's arrival and the cordial greeting between him and the Emperor. I never shall cease to regret that sight.

September 6th Breakfasted at the Table d'hote at 7 and started by railway at 8, through the beautiful hop country - detained at Reigate to change trains and almost shaken to pieces in the Express to that place. [84]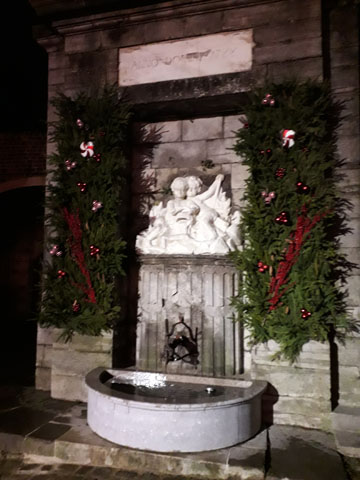 Picture - The fountain dated 1788 at Porto Gayole, in the old town, Boulogne

[85]We got to Reading about 1 - and found the Ramsays waiting to receive us Julia looking so pretty in her black. She took some of the children up to her house to give them some dinner. We went with Mr Ramsay to the George Hotel to get some luncheon and then drove up in a Gig to look at a very pretty Villa belonging to a Mr Bland, which we though might suit us, but the house is too small and the garden too grand with fountains and all kinds of exotics and 8 gardeners! Julia came to fetch us in her nice pony carriage and drove us on to the Great Western railway and then took leave - The change was a very pleasant one it is so much more roomy and easy

F/N 47, but became dreadfully hot and dusty as the day advanced and we really were not fit to be seen by the time we reached Newbold at half past five.[86]

Picture - Haute Ville, Boulogne sur Mer

[87] and found Miss Chapman ready to welcome us - her sister really better. The house looked beautifully clean after Boulogne, but the Town so empty and dull and deserted - the green certainly refreshed one's eyes -.

September 7th We drove over to Barford and found William and Charlotte and 3 boys at home. Mrs Bracebridge and Mr Landor came and I met and walked with Miss Steward - the boys and girls are all enchanted to be at home again, and certainly there is nothing like it in the long run.

[FINIS] - transcribed by Bruce Osborne 2001

The Crimean War in 1854 impacted considerably on Lady Somerville's family and activities. When the war with Russia ceased, hundreds of iron cannons were transported back to England. These were eventually used as memorials to the people of various towns and cities throughout the Empire who died in the conflict. To find out more about the cannon and which ones have survived click below.