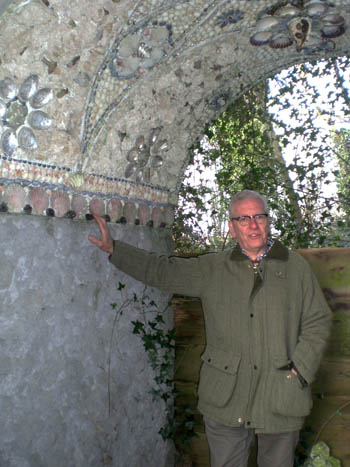 The Grotto at Gorwell House

Gorwell House
Goodleigh Road
Barnstaple
Devon
United Kingdom
EX32 7JP
Telephone: 01271 323202

High on the hillside overlooking Barnstaple, Gorwell House dates from 1828 and is Grade II listed. The grounds now comprise a substantial garden area to the rear which has been landscaped by the present owner. This has been done in the Italianate style of the traditional stately home. The garden area was a field with cattle when the present owners Mrs and Dr John Marston acquired the property. Shortly the house is about to undergo restoration and some modification designed to harmonise it better with the garden landscape.


Pictures above: 1. John shows visitors the shell work, 2. Mrs Marston's mythological creation, 3. The entrance to the grotto awaiting its back extension.




Picture left - Gorwell House.
Created mostly since 1979, this 4-acre garden overlooking the Taw estuary has a benign microclimate which allows many rare and tender plants to grow and thrive, both in the open and in walled garden. The grotto is one of a number of ornamental features and follies built in the gardens. It is unfinished, comprising the planned entrance porch way. The rear chamber of the grotto or shell house has yet to be built. The porch way is decorated with shell work, much of which comes from Croyd Bay and beach. The tufa used originated in Wales and Neptune's Head apparently comes from the Vatican in Rome.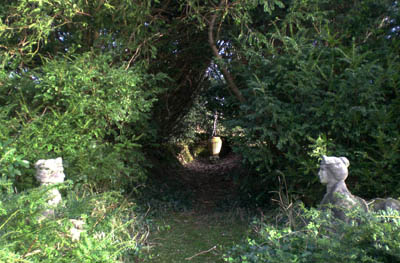 Picture right - the mystic green tunnel that leads to the grotto.


Although Gorwell House is a private residence the gardens are open a few days each year to the public. Parties need to pre-arrange attendance and dates are given on the Gorwell House website, This can be accessed by clicking Website below.


Picture above - detail of the shell work ceiling and Neptune's Head.




Email: artavianjohn@gmail.com (click here to send an email)


Website: Click Here

ADDITIONAL INFORMATION

As you leave Barnstaple on the Goodleigh Road, you pass Gorwell Road on your left after about three quarters of a mile. A few hundred yards further on there is a drive to your left at the end of the modern housing. This drive leads to Gorwell House, which can be seen on the overlooking hill to your left.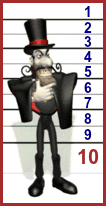 GREAT BRITISH GROTTO GRADING

Click to go to Grotto.Directory home page










CONSTRAINTS

On private property, Open set times only

FACILITIES

Access by Road, Access on Foot, Entry Fee, Grotto - just one

LANDSCAPE

Country town/village, Park or Garden, Rural

REGION

England - Southern

THE FEATURES PRESENT

+A created provenance that links it to ancient mythology or legend, +Cared for and maintained in good condition, +Fossils and/or shells incorporated into the decor, +Internal stonework that is natural, recycled or simulated to give a subterranean decor, +Stunning setting and location, +Viewing points from within to an intriguing landscape outside, GRADED SIX