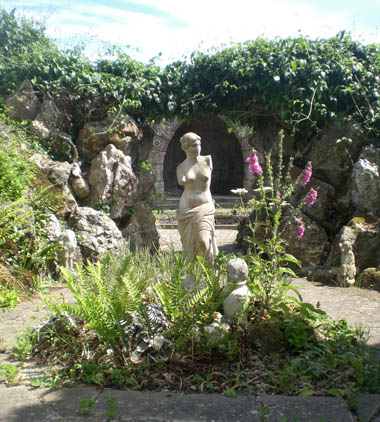 Knowle Grotto

Sidmouth
Devon
United Kingdom
EX10 8HH


The Knowle was once one of the most famous houses in Sidmouth but later rebuilding and alterations for a hotel have not left any recognisable early features of the original building. Something of the fine grounds remain as a public park, although diminished to some extent to the north by the council car parks and the rather nondescript offices of East Devon District Council. A great variety of picturesque garden buildings, fountains, summerhouses and grottos were present in its earlier history, but today there remains within the park the ruins of only one, the gothic summerhouse. Some ruins are present in private gardens, created when various plots were sold off for housing many years ago.

The original house and garden, known as Marine Cottage, was built as a holiday home by Sir Thomas Stapleton, Lord le Despencer, between 1805 and 1810 in the style of an elaborate thatched cottage orne set as a quadrangle with some forty rooms. The earliest known dated print of 1816 gives the house name as 'Knole'. There followed a period when the home passed through at least two owners but was bought in 1821 by Mr Thomas Leversidge Fish. Fish was then a 36 year old bachelor and very rich. He set about furnishing the house and grounds with an extraordinary collection of objets d'art, exotic trees and plants, birds and animals including kangaroos, gazelles, alpacas, buffalos, parakeets, peacocks and pelicans. He was the likely creator of the surviving grotto.

Thomas died in 1861, and Knowle was once again on the market. The prospectus for the sale cited "All that valuable and beautiful estate known as Knowle Cottage and grounds" comprising some eighteen acres and "commands extensive marine and land views; its lawn, park and gardens are tastefully ornamented with conservatories, summerhouses, fountains, grottoes and pyramids of shells". Owned for some six years by Mr Marson who died in 1867, the next great owner was Richard Napoleon Thornton, described by the Exeter Flying Post as "A philanthropist by nature, a benefactor to the last and the universal friend of rich and poor". He spent two years adding to the house and gardens, erecting vineries and pineries, houses for tropical plants and rosaries and grottoes were laid out. The gardens and grounds were frequently opened to the public. When Richard died in 1876 the estate devolved to his son, Rev R T Thornton who was a reluctant heir and put the property up for auction, but it was only in 1880 after dividing into 11 lots that a successful sale was made.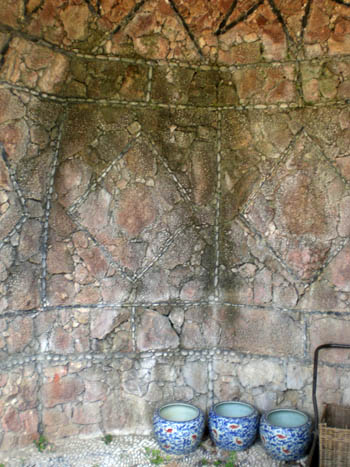 Picture - The interior of the grotto shelter.
Two lots were bought by Major Hicks and the remainder by the "Sidmouth Knowle Hotel and Baths Company (Limited)" to adapt the mansion to the purposes of a residential hotel and to develop the outlying areas "in such a way as they may deem profitable" - that is, to build large houses on this very attractive high ground, as indeed some were! The hotel prospered and was extended so that in October 1896 the Pall Mall Gazette could advertise:- "Knowle Hotel, Sidmouth, S.Devon - Quite unsurpassed as a winter resort. Delightful grounds of 29 acres. Sunshine record highest in the South coast......" Two world wars saw various uses for the hotel - in 1942 it became a Royal Air Force Aircrew Officers Training School. Most of the local hotels were requisitioned for the duration but Knowle was one of the last to be derequisitioned in 1947 - and reopened as a 60 room hotel on 1st May. But the 1960s saw the hotel industry struggling - Knowle was put up for sale and bought by the Sidmouth Urban District Council for use as their offices and the surplus parts adapted for flats and bedsits whilst preserving the parkland as public open space so that no development could take place.

The grotto dating from the early C19 is Grade II listed by English Heritage. It has a layout of paths, bays and circular spaces surrounded by rockeries of rustic stone. A pedestal with vase forms the central feature of one enclosure, an oval pool lined with pebbles of another. Axial to these at the far end is a semi circular grotto shelter with vaulted roof. It is lined with rose quartz, picked out with a design of black pebbles. To find the surviving grotto you need to look into the grounds of Knowle Grange which is located on Knowle Drive, a turning off Station Road. Proceed through the entrance gateway of this block of modern apartments turning left to the garages. Follow the paved area to the side of the apartment block and the grotto is on the left. This is private property and so approval should be sought before carrying out field work.



ADDITIONAL INFORMATION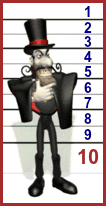 GREAT BRITISH GROTTO GRADING

Click to go to Grotto.Directory home page











CONSTRAINTS

Not open to the public, On private property

FACILITIES

Access on Foot, Grotto with extensive rock gardens

LANDSCAPE

Coastal, Country town/village

REGION

England - Southern

THE FEATURES PRESENT

+A created provenance that links it to ancient mythology or legend, +Cared for and maintained in good condition, +Crystals and/or minerals, either natural or simulated, +Dark and mysterious chambers and cave like spaces, +External rock structures, either real or simulated, +Sacred spring or integral water feature, +Stunning setting and location, GRADED SEVEN