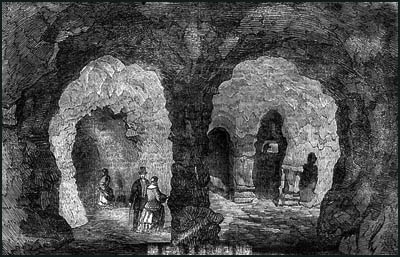 Hawkestone Park

Weston-under-Redcastle
Shrewsbury
Shropshire
United Kingdom
SY4 5UY
Telephone: 01393 200611 Fax: 01393 200311


Hawkstone history begins with the building of a castle by Henry de Audley in 1227. It was built on one of the crags rising from the Shropshire plain. In the 18th and 19th centuries the terms 'The Beautiful', 'The Romantic' and 'The Sublime' were what set the style for the creation of parkland from the original substantial estate.


Hawkestone Park is set in the rugged sandstone hills of Shropshire and is deemed a masterpiece of landscaping. It includes many follies and other structures, intended to blend into the naturalistic landscape that was created in the 18th and 19th centuries by the Hill family. Hawkestone is recognised and listed as Grade I by English Heritage. During the 20th century the park became neglected and more recent effort has resulted in restoration of the monuments and clearance of the invading trees and undergrowth that masked the underlying beauty. One of the greatest of the many man made features is the grotto at the summit of Grotto Hill.

John Lovejoy recorded in 1767 that the grotto was under construction. It has been suggested that this was an adaption of earlier Roman Copper Mines but this is speculation. The grotto emerged over an extended period of time as additional features were added to the basic complex. Sir Richard Hill (1732 - 1809) added the Gothic Arch to the grotto atop Grotto Hill and opened up the cleft and tunnel providing an intriguing access to the grotto.

The ceiling and walls were encrusted with costly shells, selected from the remotest regions of the sea and inlaid with fossils from the deepest recesses of the earth. This work is said to have been carried out by the ladies of the Hill family.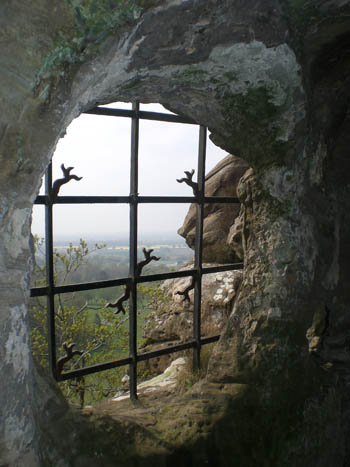 It is interesting to note that some of these encrustations were in fact waste debris from the new iron industry in Coalbrookdale, branded turquoise furnace slag! What resulted was a complex of underground passages and manmade chambers that give spectacular views over the surrounding countryside from the viewpoints strategically located high above the rugged hillside and gorge. These openings were originally glazed with stained glass in leaded lights, but all have disappeared. Sadly a considerable amount of destruction of these features and encrustations took place when part of the Park was used as a Prisoner of War camp during the Second World War.

Eventually due to financial difficulties the estate was sold off in the early 20th century by the Hills. The whole was split into various properties including a hotel. Since 1993 the landscaped park has been open to the public to visit and enjoy.

Details of the history of Hawkestone Park can be read in 'Hawkestone Park Follies - A short history guide' (2011) available to visitors on site.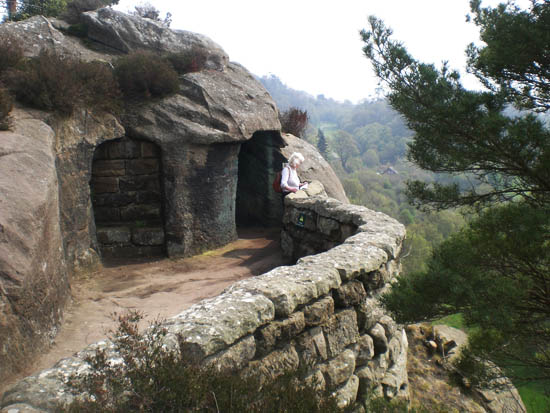 Website: Click Here

ADDITIONAL INFORMATION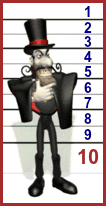 GREAT BRITISH GROTTO GRADING

Click to go to Grotto.Directory home page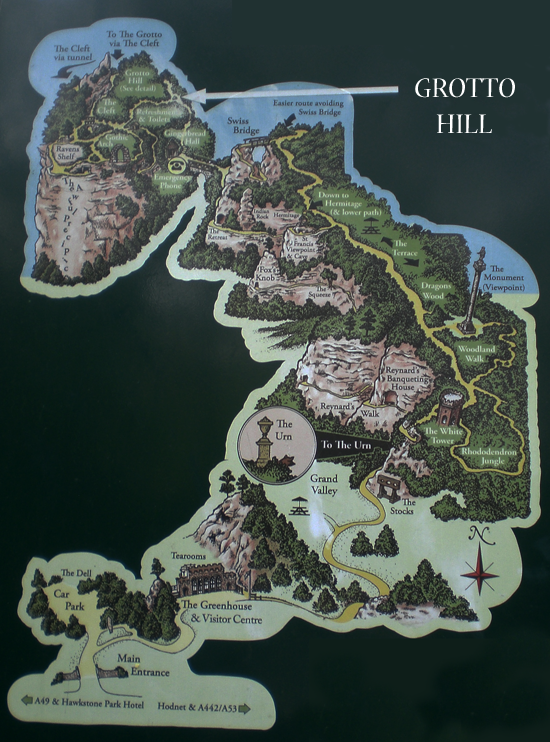 CONSTRAINTS

Open set times only, Physical access difficult

FACILITIES

Access by Road, Access on Foot, Entry Fee, Grotto with extensive rock gardens, Restaurant/Food, Retail Souvenir Shop, Toilets, Tourism Information

LANDSCAPE

Park or Garden, Rural, Upland

REGION

England - Central

THE FEATURES PRESENT

+Cared for and maintained in good condition, +Crystals and/or minerals, either natural or simulated, +External rock structures, either real or simulated, +Fossils and/or shells incorporated into the decor, +Internal stonework that is natural, recycled or simulated to give a subterranean decor, +Stunning setting and location, +Viewing points from within to an intriguing landscape outside, GRADED EIGHT