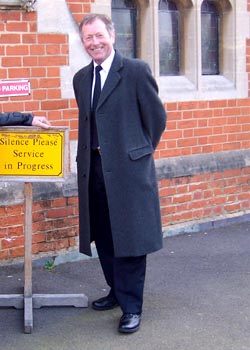 Osborne, Lionel Stuart

St Erth
Hayle
Cornwall
United Kingdom


Born just after World War II, Lionel was brought up at Belmont, near Sutton, with his elder brother Bruce. Both boys attended Banstead Primary School and then Sutton Grammar School for Boys. Lionel then went on to qualify as an architect. During his field studies he met a Cornish girl and this was to set the pattern for the rest of his life. Before long he married Naomi and aquiring a redundant church hall in Cornwall, they converted the premises to a distinctive residence. Here they have brought up two daughters and established themselves as an integral part of the community.

In September 2015 it was decided to sell Trefrew Hall, Lionel and Naomi's home for life. The following account summarises their relationship with this extraordinary property.

It's not every home that has an engraved foundation stone set in the corner - but then, Trefrew Hall in St Erth near Hayle did'nt start life as a house. Constructed in 1921 in Arts and Crafts style, this well-proportioned building was built to be a church hall, and later served as a school during World War II. Naomi and Lionel Osborne have owned it for 40 years.

"When we bought it, it was literally just the church hall, with an outsde urinal," says Naomi, who grew up in the area. "I remembered doing a variety concert there when I was 14. We started converting it gradually as we got the money, First we divided up the large space with walls, and then my husband built on a bathroom, followed by the garage."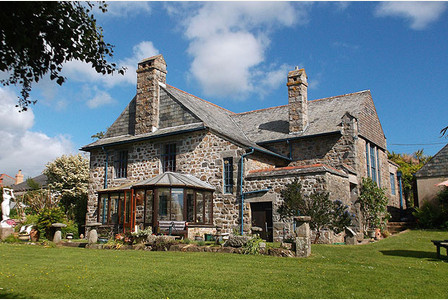 Naomi and Lionel had two girls, and she says the space worked very well for raising children. "It makes a great family home," she says. "I grew up in a big vicarage with high ceilings, so I loved the spacious feel of it. You can cook in the kitchen and keep an eye on the children roaring around. They can literally ride their bikes up and down inside."

Naomi and Lionel continued to improve the house and grounds over the years, and it's now in a very practical and attractive format. They've made sure to highlight the hall's historic workmanship, including the striking granite arch facade, wide doorways, and original steel windows with deep sills and winding mechanisms. A concertina pine screen divides the impressive kitchen, with its granite mullioned window and red Aga, from the drawing room with its period brick fireplace. There is also a working fireplace in the lounge. The three principal rooms have magnificent moulded rib barrel ceilings and cornices; and there are solid wood arched entrance doors with leaded lights in the spacious hall.

"It's a great house for parties - we used to have a lot when we were younger," says Naomi. "And it's great at Christmas too - and all you have to do for the decorations is go pick them from the garden!"




The original stage for the church hall remains in situ, cleverly redesigned to incorporate an airy bedroom that overlooks the garden. A grand dining room incorporates a library with steps, leading to a "minstrels' gallery" currently used as a study. The magnificent master suite has a barreled ceiling, wood panelling, an en-suite bathroom and a working fireplace.

"It is great on cold evenings - there's just the argument of who's going to put more wood on," laughs Naomi.

On the lower ground floor is a conservatory overlooking the delightful garden, and a third double bedroom, with utility and bathroom areas.

"It would lend itself well to being divided for different generations if necessary," says Naomi.

Now that the girls have grown up and have families of their own, Naomi and Lionel, now in their 60s, are moving to be closer to them.

"It is a lovely place to live - there's lots going on in the village, and it's such a beautiful part of Cornwall. We'll miss it, but I expect we'll be back a fair bit!"

About the area

St Erth: is a small but lively village between St Ives and Hayle. The original crossing of the river Hayle, it has an ancient bridge, as well as a shop, post office, pub, school and two churches. Take a look at the village website, www.st-erth.co.uk, to see the array of clubs and societies there are, from amateur dramatics to special interest clubs. West Cornwall is a draw for creative types such as artists to sculptors, and you will find many living here.

Roads: Though far west, St Erth has good accessibility, and is only a few minutes from the A30 trunk road.

Rail: At St Erth station you'll be able to get on the main London-Penzance line.

Schools: St Erth has a primary school which is Ofsted-rated 'good', and there are several more 'outstanding' ones in the area, as well as a 'good' secondary in Hayle. St Piran's School in Hayle is the nearest private school.

Work: Once the heart of the mining industry, this area is now largely devoted to tourism - nearby St Michael's Mount is a jewel in the National Trust's crown, and the Tate St Ives draws art lovers from around the world. It's not a bad commute to RNAS Culdrose.

Play: Take the branch line into St Ives for a day of enjoyable mooching around galleries and shops with a spot of seafood, or head to the gorgeous sandy beaches a short cycle ride away.

Trefrew Hall, School Lane, St Erth, Hayle

Property: A spacious converted former church hall built in Arts and Crafts style, sensitively modernised and extended

Location: on the edge of the pretty village of St Erth near Hayle in West Cornwall

Accommodation: Three reception rooms, kitchen, four bedrooms, mezzanine study area

Outside: Generous gardens and grounds including level lawn, garage and useful outbuildings. No onward chain.

Price: 625,000 pounds

Agents: Stags, Truro, 01884 235705,
truro@stags.co.uk, www.stags.co.uk

Email: info@thespas.co.uk (click here to send an email)


ADDITIONAL INFORMATION

Sidney John Osborne

Kathleen Beatrice Osborne
Naomi

Foy

Alice







DESTINY CATEGORY

PEOPLE, PRESENT DAY

REGION

England - Southern