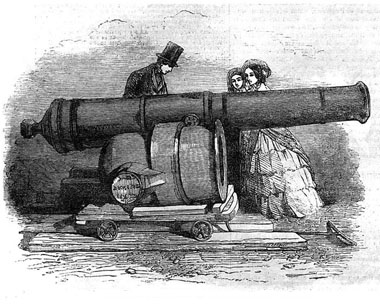 CRIMEAN CANNONS - WHERE ARE THEY NOW?

Bomersund Fortress
Sund
Aland Islands
Baltic Sea



Bomarsund was a 19th-century fortress, the construction of which had started in 1832 by Russia in Sund, Aland Islands, in the Baltic Sea. The Battle of Bomarsund, in August 1854, took place during the Crimean War, when an Anglo-French expeditionary force attacked this Russian fortress. It was the only major action of the war to take place at Bomarsund in the Baltic Sea. For four days enemy ships bombarded the fortress with cannon fire. On the 16th of August the fortress commandant surrendered and some 2,000 men were brought to England and France as prisoners of war. On September 2nd the main fortress was destroyed.



Although the fortress was destroyed during the Crimean War in 1854; today, the ruins at Bomarsund are testimony to this large fortified area now a popular tourist venue, where cannon from the Crimean War continue to point threateningly from the ruined ramparts.

Bomersund was the scene of one of the key engagements in the Russian War and five guns are recorded on the Robins database:

1. 197.5 puds weight
2. 179 puds weight
3. 8805 Alexandrovski Gascoigne
4. 9462 Alexandrovski Gascoigne
5. 9503 Alexandrovski Gascoigne
6. 21990 Alexandrovski Foullon


Mystery - One of the cannon from Bomersund appears to have made its way to the Crystal Palace, presumably the one in South London, by 1854. Here it was exhibited outdoors alongside a mortar. In London the Great Exhibition had closed and so perhaps it was displayed on the site until a permanent home could be found. See the contemporary engraving top right. To find out more about the Crystal Palace click the waterwheel below.






Website: Click Here

ADDITIONAL INFORMATION





FACILITIES

Access all Year, Tourism Information

LANDSCAPE

Island

REGION

Located outside the United Kingdom

THE FEATURES PRESENT

Crimean Cannon Location, past or present