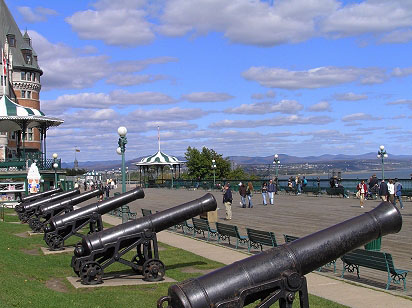 CRIMEAN CANNONS - WHERE ARE THEY NOW?

Chateau Frontenac
1 Rue des Carrieres
Quebec City
Quebec
Canada
QC G1R 4P5


The Robins/Hennessy database records the following cannon in Quebec City. Number 6431 dated 1799 a 24pdr Alexandrovski Works directed by Gascoigne.

Canada's culturally French city of Quebec is a smoothbore artillerist's paradise. The city, figuring prominently in the French and Indian War and the American Revolution, abounds with artillery from early French pieces to mid-19th century British guns. The city, in which some city streets are lined with cannon still guarding the ramparts, even features a museum called the 'Artillery Park.'

In Old City of Quebec, just below the Chateau Frontenac, you will find a delightful area known as Terrasse Dufferin along the St. Lawrence River. It was built in 1879 under the direction of Lord Dufferin. There are many interesting sights to take in as you stroll down the terrace. One of these sights are the cannons spread along the walkway.

Two of these cannons were captured by the British during the Crimean War which was fought between Russia and Turkey and its allies, Britain, France and Sardinia. The Treaty of Paris ended the war in March 1856, and the allies collected some 4,000 Russian guns. Half of these went to France, and about 1,165 went to England. 20 captured Russian Guns were sent to Canada and in the fall of 1857 they were put on display in Montreal before being distributed to other cities. Pairs of guns were sent to Brantford, Cambridge, Galt, Hamilton, Kingston, London, Montreal, Ottawa, Quebec City, Stratford, Trois Rivieres, Toronto and Windsor. 18 of these guns survive.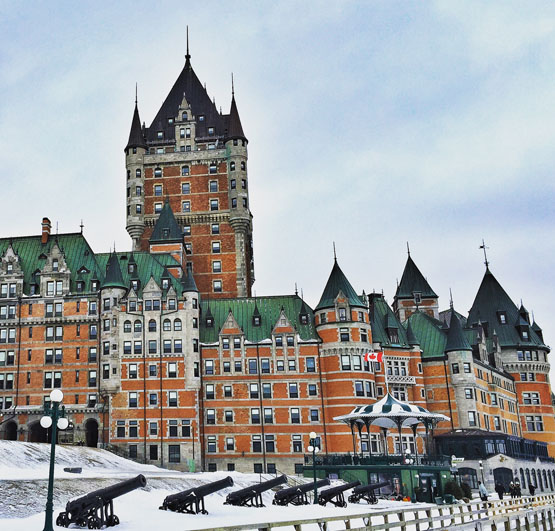 Taking a more detailed look at the six cannon next to the Chateau Frontenac overlooking the St. Lawrence, the Imperial Russian eagle can be found on two which are dated 1799. These 24 pounders are at rest on British gun carriages in silent vigil. These are the war souvenirs from the Crimean War that originated in the Alexandrovski Works directed by Gascoigne.

Their story begins not in Canada, Russia, Scotland, or even France, but in London with a wholesaler of drugs and chemicals named Charles Gascoigne. Gascoigne was to become manager of a company in which his father-in-law was a partner. Called Scotland's Carron Iron Works, the foundry was destined to become a famous cannon manufacturer, thanks in large degree to the efforts of Gascoigne who did much to improve its works and its management.

As part of expansion of the Carron business, Gascoigne had been exporting carronades to Russia and the quality of his work had become known to those in power in St. Petersburg. Between 1784 and 1786, Carron shipped 527 guns to Russia, along with plans, patterns and instructions for their use. His trade with the Russians was, unfortunately, also known to the British government, which was not happy with his supplying weapons and technology to a possible adversary.

The government ordered the trade with Russia stopped. Gascoigne apologized for supplying the Russians with weapons and the technology to produce them, claiming a lack of understanding of the law, but continued to supply these items nonetheless.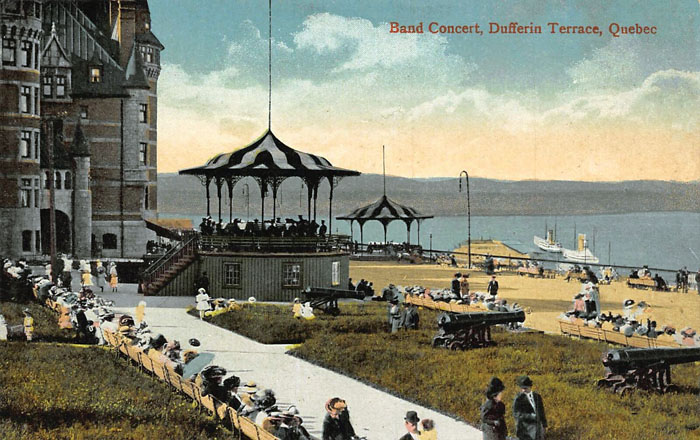 Above - the Terrasse Dufferin circa 1900



Unfortunately, though well-known, the Carron works were not successful financially and Gascoigne was feeling the pinch. He lost his country mansion and was forced to move into rented quarters. With creditors at his heels in Scotland, he received an offer from the Russian crown that he could not overlook.

In 1786, one year shy of his 50th birthday, Gascoigne moved to Russia, supposedly only briefly to manage the effort to improve the Alexandrovsky Foundry. Russia had recently taken Poland and a new war with the Ottoman Empire was in the offing. Tsarina Catherine the Great realized that Russia needed to revitalize her iron industry and to supply guns for the fortifications guarding the new borders of the expanding Russian realm. Debt-ridden Gascoigne was eventually offered the incredible sum of 2,500 British pounds to stay in Russia and serve the Tsarina.

If the money alone was not enough, Gascoigne was in the midst of a disagreement with the Carron Iron Works over credit for the invention of the carronade. As a result of his all-around intolerable situation in Scotland, not only did he decide to stay in Russia, but he enticed some of his best technicians to remain with him.

Upon arriving in Russia, the Scottish artillery maker was first placed as director of the Alexandrovsky foundry, a position he would officially continue to hold until his death (1806). The foundry, located at Petrozavodsk, was started in 1774 and operated by the French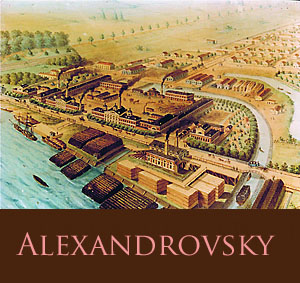 until 1777 when it went bankrupt and was taken over by the Russian state.

It was while he was managing the Alexandrovsky foundry that Gascoigne made the guns that today sit on the Dufferin Terrace in Quebec. The trunnions indicate that both were manufactured in 1799 by Gascoigne. One gun's Russian trunnion inscription reads 'Russian Cannon #6431 Alexandrovsky Foundry, D. Gaskoin.' The gun appears to have been intended for shipboard use since the trunnion is also marked 'frigate.' The second piece, is marked '#7372' and also 'D. Gaskoin.'

The caliber of both guns is noted on the trunnions as being guns of 24 'funt,' or basically a 24-pdr. since a Russian funt is generally the same as the English pound.

The weights are also inscribed on the guns, on the trunnion of one gun and on the breech of the other. In the case where the inscription is most legible, on the breech of the second gun, the weight is noted as 51 Russian 'pood' (designated by the Greek letter 'Pi') or basically 1,840 pounds, since a 'pood' is generally equal to 35 funt or just over 36 pounds.

The marks on the trunnions, however, are not written in standard Russian, giving the appearance that the inscriber was not entirely familiar with the language. Particularly odd is that the name is not listed as 'C Gaskoin' for Charles Gascoigne but, oddly as 'D Gaskoin.' Charles had no sons or brothers with him, so we can only assume that it is an 18th century typo.

The following year, 1800, Gascoigne began to focus his efforts at his new foundry at Lugansk. He eventually was given the rank of general, granted 2,000 serfs, and became a knight of the Orders of St. Vladikmir and St Anne. When he died as a rich and powerful servant of the Russian crown, Russian cabinet ministers noted that 'There is no price high enough to measure the benefits Gascoigne brought to Russia.'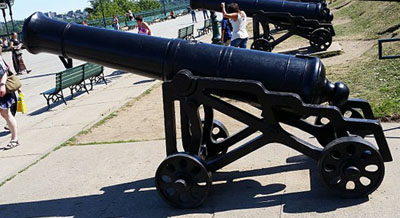 Above - one of the Russian cannon



The Gascoigne guns which eventually found their way to Quebec may have been in action in the Napoleonic Wars 1812 invasion. Later, the guns were placed in the immense fortifications of the deep port of Sevastopol on the Black Sea's Crimean peninsula.

The guns were just over 50 years old when the Crimea became the focal point of the British, French and Russian forces in a war filled with more than the usual amount of military blunders. After a siege of 11 months, Sevastopol fell, surrendering over 4,000 cannon and 50,000 cannon projectiles to the French and English armies. The Gascoigne guns were among those captured.

The treaty ending the war on Nov. 15, 1855, addressed the distribution of the captured artillery trophies. In 1856 a number of the guns were returned to England where Queen Victoria viewed them at the Woolwich Arsenal. The guns, serving as trophies showing Great Britain's military prowess, were to be distributed to the far-flung parts of the British realm, such as New Zealand, Australia and Canada.

Later that same year, 20 of the guns were offered to Canada. The guns were shipped to Montreal aboard the bark Panthea, arriving on Sept. 16, 1857. After being placed in Montreal's historic parade grounds, the Champ de Mars, for public viewing, the guns were distributed to various Canadian cities in 1860. Two of these trophies were sent to Quebec, and now sit on the Dufferin Terrace, mounted on British carriages.

The above information is based on Two 1799 Russian 24 Pdrs. Watch The St. Lawrence River In Quebec by Patrick McSherry, The Artilleryman, Fall 2003, Vol 24, No. 4.





ADDITIONAL INFORMATION













FACILITIES

Access all Year, Access on Foot, Free Entry, Part of a larger tourism attraction

LANDSCAPE

Inland Water, Park or Garden

REGION

Located outside the United Kingdom

THE FEATURES PRESENT

Crimean Cannon Location, past or present