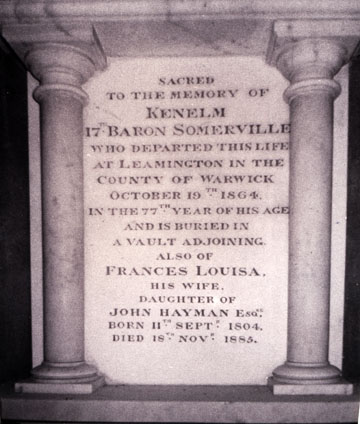 The Somerville sequence of events after their diarised holidays as a family.


Click the F/N button for numbered footnotes.





1861 6 August - Selina, 4th daughter of Kenelm and Frances Somerville, marries Ralph Smyth Esq. of Gaybrook, Mullinger, Westmeath, Ireland. 1862 - Belmore House, Cowes, let furnished to Lord Somerville.

1864 28 January - Harriet, Lady Erroll, wife of William, 15th Earl of Erroll and Kenelm's sister, dies. She lived at Pennington House, Pennington, Hampshire. There is a monument inscription in Lymington Parish Church, see 1855 page 34. She was blind.

1864 19 October - Kenelm, 17th Baron Somerville dies at Newbold Comyn, Leamington Spa. The cause of death was epileptic convulsion.

1865 28 June Lady F L Somerville takes a lease on East Close House, near Christchurch, Hampshire, the property of Sir E M T Gervais, Bart. This indicates that they had vacated Newbold Comyn. Now the East Close Country Hotel, it is located on the edge of the New Forest. It was mentioned in the Doomsday Book. The older part of the present day building was originally a farm house, built in the early 18th century. In 1722 the elegant main staircase and drawing room were added. Outside there are gardens of note. Other families recorded in the 19th century census returns at East Close include the Skipwiths and the Lister Kay(e)s.

1865 24 August - death of Mrs Charlotte Somerville, wife of Kenelm's brother William (deceased) and daughter of the Reverend Walter Bagot of Blythfield, Staffs.

1867 8 January - Frederick, youngest son of Kenelm and Frances Somerville, Lieutenant in the Rifle Brigade dies without issue at East Close, Christchurch. He appears to have inherited epilepsy from his father and this is given as the cause of the sudden death. His grave is at Hinton Church, near East Close, and the grave MI reads: 'Sacred to the memory of Frederick Noel Somerville, Lieutenant in the Rifle Brigade, who died January 8th 1867, aged 26. Thy will be done.' There is a further MI to Frederick and his brother Hugh in the church as detailed below.

1868 28 July - Isabella Wemyss dies.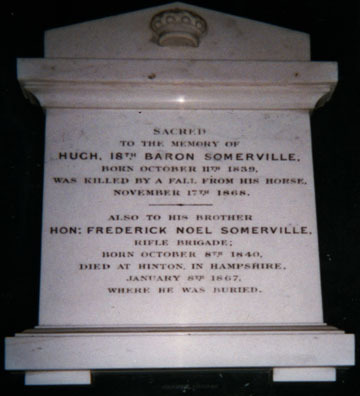 1868 17 November - Hugh, 18th Baron Somerville and only surviving son of Kenelm and Frances Louisa Somerville, of Knibworth, Leicestershire, dies from a fall when out hunting at Ridlington, Rutland, without issue. There is a MI to Frederick and his brother Hugh in Hinton church 'To the Glory of God and in memory of Hon. Frederick Somerville Jany. 8th 1867 and of Hugh 18th Baron Somerville Nov. 17th 1868'.

1869 29 April - Emily, 2nd daughter of Kenelm and Frances Louisa Somerville marries Reverend Thomas Bond Bird Robinson, M.A. Christ Church Oxon. (born 1836), rector of Milton 1875-1897, near Lymington. Previously the rector was Philip Somerville (perpetual curate 1853-1867, rector 1867-1875). The Rev. Thomas lived at The Cedars, Burton, where he added external balconies. The house is now called Cedar House (Mrs Van Haagen). In 1876 he built Parsonage House, Milton, on a new site at a cost of 2,000 pounds.

1870 28 August - Aubrey John, 19th Baron Somerville and only surviving son of William and Charlotte Somerville, of Port Macquarie, New South Wales and the Pavilion, Melrose, near Selkirk, dies at Aston Somerville of bronchitis, without issue and the male line of the Barony becomes extinct. Being a Scottish title it can theoretically be perpetuated through the female line.

1870 The Somerville Estate passes into the hands of Lady Somerville's five daughters. As they did not wish to retain it, Aston Somerville was sold for 48,300 pounds at a public auction in London.

1871 21 August - Louisa, 1st daughter of Kenelm and Frances Somerville, marries Colonel Charles Stewart Henry CB of Royal Horse Artillery.

1871 23 November - Julia, 4th daughter of Kenelm and Frances Somerville, marries Colonel Edward William Blackett, ADC to the Queen, eldest son of Sir William Blackett, 6th Bart of Matfen.

1871 30 December - a conveyance in the WRO indicates that the Aston Somerville Estate passed into the hands of John Whitehead at the direction of the co-heiress of the Rt. Hon. Hugh Somerville. This presumably ratified the sale of 1870.

1872 8 January - declaration by the Sheriff in Chancery, conferring the Scottish Estates on Louisa Henry (nee Somerville) Kenelm and Francis's eldest daughter.

1872 18 June - Mary, 3rd daughter of Kenelm and Frances Louisa Somerville marries Sir Theophilus William Biddulph of Westcombe. He was the son and heir of Sir Theophilus Biddulph, 6th bart who died 15 July 1851 aged 69 and Jane Rebecca, wife died 19 March 1843 age 40. The family seat was Birdingbury Hall, near Leamington, which had been in the family's hands since 1687 when Simon Biddulph has acquired the manor. The family continued to hold the manor until 1914 when the estate was sold. The Hall is a large ancient stone mansion in Jacobean style with projecting wings and a small portico in the centre. The Biddulphs were extensive landowners and Biddulphs are listed as rectors in the 18th and 19th centuries

F/N 1. Birdingbury Hall was extensively damaged by fire in 1859 but in spite of this survives to this day as a private residence

F/N 2. Monument inscriptions exist in the churchyard to the family.




Destruction by fire of Birdingbury Hall Warwickshire.



1873 Hugh Blackett, 1st son of the 8th baronet was born to Lady Somerville's daughter Julia and Major General Sir Edward William Blackett. Only Julia and Mary were to have children out of Lady Somerville's seven children. Hugh was Lady Somerville's first male grandchild although the heir to the Somerville dynasty was to be elder sister Mary's son born the following year. The dynasty did return to the Blackett's in the mid 20th century when the Biddulph line deceased.

1873 4th April - Mary Biddulph, daughter of Mary Somerville and Sir Theophilus William Biddulph was born. She died 8th January 1893. Mary was Lady Somerville's first female grandchild.

1874 Theophilus George Biddulph was born, the son of Lady Somerville's daughter Mary and Sir Theophilus William Biddulph of Westcombe. Being the son of Lady Somerville's eldest child to have offspring, Theophilus was Lady Somerville's grandson and ultimately heir to the Somerville dynasty. As a result The Pavilion, Melrose passed to him.

1875 20 July - Sir Francis Bond Head, husband of Kenelm's sister Julia Valenzia, dies and is buried at Sanderstead.

1879 23 March - Hon. Julia Velenzia, Lady Head, sister of Kenelm Somerville, dies at Croydon, buried at Sanderstead Church.

1883 Mary's husband, Sir Theophilus William Biddulph dies leaving an only son Sir Theophilus George Biddulph (1874-1948). He and then his wife Eleanor were eventually to inherit the Somerville dynasty when Louisa dies without issue in 1923. Eleanor died in 1969. On her death the Somerville dynasty passed to the Blacketts, the family that Julia married into. Mary died in 1889 and her and her husband have monumental inscriptions at Birdingbury, near Rugby, their family seat.

1885 18 November - Frances Louisa, Lady Somerville dies at 24 Granville Place, Portman Square, London. Cause of death was paralysis and congestion of the lungs. Ralph Smyth, Selina's husband was present at the death.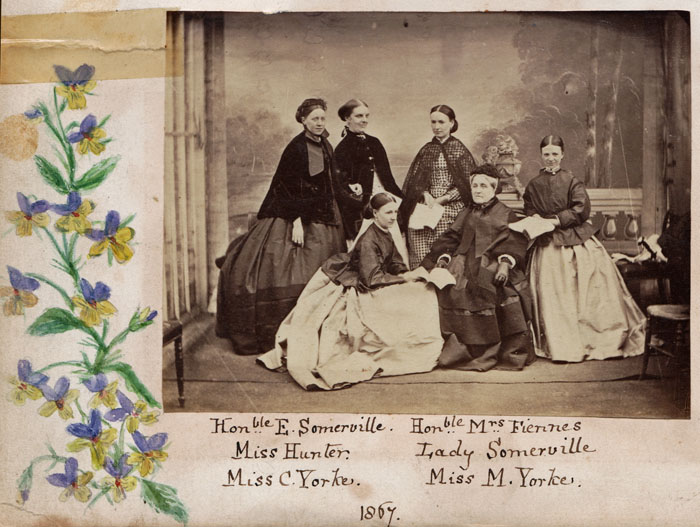 Lady Somerville with family and friends in 1867.

QED.





Website: Click Here

ADDITIONAL INFORMATION





This is the last will and testament of
me the Right Honourable Kenelm Lord Somerville,
a Vice Admiral in the Royal Navy. I revoke all former wills and testamentary papers, I appoint my dear wife the Right Honourable Frances Louisa Lady Somerville and my oldest son the Honourable Hugh Somerville executrix and executor of this my will. I direct all my just debts and my funeral and testamentary expenses to be paid and whereas by the settlement made previously to my marriage I revoke and invest my said wife Frances Louisa Lady Somerville survives me and the procure from the sale of certain Canal Shares ……… mentioned when sold should not spoil annual amount of two hundred pounds. My heirs executors administrators or …………… should yearly during the life of the said Francis Louisa Lady Somerville pay to the executors of such settlement such sum of money yearly as will make good the ………… and whereas the probate from the sale of the said Canal Shares has been invested in the purchase of three thousand six hundred and forty one pounds eight shillings and revise ……………pounds p route consolidated bank annuities up holding yearly the amounts of one hundred and nine pounds four shillings and ten pence. Now I am hereby direct my said executrix and executor to complete and fulfil that engagement and covenants made upon my marriage by payment of that yearly sum of ninety pounds fifteen shillings and two pence to the Trustees or Trustee for that time being and for her absolute use and disposal all my household goods furniture books prints linen china glass and all my carriages carriage and other horses harness wine liquors all my farming stock both live and dead and implements and I give all a legacy of five hundred pounds to be paid within three months after my decease and I also give her a further legacy or sum of one thousand pounds to be paid within the same period it being my wish that she shall appropriate the last mentioned legacy for the benefit of my second son Frederick Noel Somerville in advancing? him in the military profession or in any other manner she may in her own discretion from? Most advisable for his benefit but this expression of my wish is not intended to negate any express or implied trust in favour of the said Frederick Noel Somerville or to entitle him to call for or require the payment or application of the same legacy or any part thereof or to abridge the absolute right of the said Francis Louisa Lady Somerville thereto or to the amount thereof ………. In the event of her death of the said Francis Louisa Lady Somerville in the lifetime of the said Frederick Noel Somervillle without having applied at whole or any part of the capital of the said last mentioned legacy? For his advancement or benefit and give the same or similar thereof as may then remain to the said Frederick Noel Somerville absolutely and subject to the foregoing directions and dispositions. I give to my said wife Francis Louisa Lady Somerville and my said son Hugh Somerville all my money sum …………… for money and personal estate and effects of what nature or kind so ever (no herein before specifically bequeathed) upon the Trusts and for the purposes following that is to say upon trust that they the said Frances Louisa Lady Somerville and Hugh Somerville or the survivor of …….. of act or his executors or administrators or other the trustees or trustee for the time being of this my will (……………….. after referred to as my trustees or Trustee for the time being) to and shall convert into money all such part of my personal estate as shall not consist of money or be invested on securities and …………….. ……..out as interest upon Government or real securities all ……………. Our money as at the time of my death may not then be invested on any security and ……………… pay the whole of my said personal estate atainafter as the said trust fund to and amongst all and every of my railbron (except on oldest son or such son as shall seceded to the title and Baron Lord Somerville) who shall be living at my brest? or born in but time afterwards in equal shares and proportions and if but one surarelib (except an oldest or such son as aforesaid) …………… to ………………… only youngest railrab share or portion of a sum to be paid on his attaining twenty one years of age and of a daughter on attaining that age or on her marriage


The Will of Lady Somerville


I the Right Honourable Frances Louisa Somerville
of Granville Place Portman Square in the County of Middlesex, Widow of the Right Honourable Kenelm late Lord Somerville declare this to be my last will I desire to be buried wherever I may die and at as little expense as may be I direct all my just debts and funeral and testamentary expenses to be in the first instance paid and satisfied In exercise of the power reserved invested in me by my marriage Settlement I direct and appoint that all and singular the Trust monies and funds subject to such settlement shall be divided equally amongst my daughters each of them ??hging into account my part thereof which may have been previously appointed or given to or for her I give to my eldest daughter Louisa Harriet Henry my set of diamonds (consisting of necklace, earrings, and brooch) the portrait of John Lord Somerville by Woodforde

F/N 3, the picture of 'Deborah' by Rembrandt the copy of Van Dyke's portrait of Lord Falkland the Somerville Memoires in manuscripts and all my books I give to my daughter Emily Charlotte Robinson the picture of 'Dutch woman' by Louise de Marigny. I give to my daughter Selina Constance Smyth the portrait of 'Viscount Dupplin' by Van Somers and to my daughter Julia Frances Blackett the portrait of Prince Rupert by Gerard Honthorst

F/N 4, . And as to all the rest and residue of my estate and effects whatsoever and wheresoever of which I shall die possessed or over which I have any power of appointment or disposition I give appoint and bequeath the same unto and equally amongst all my daughters And for simplifying the division of my residuary property amongst my residuary legatees I authorise my Executors to sell and convert into money such parts thereof as shall not consist of money or as my residuary legatees shall not within six months from my decease select and agree to retain and distribute among themselves and to divide the nett proceeds accordingly and in such selection it is my wish that my said daughter Louisa Harriet Henry shall have the first option of taking all or any part of my plate and plated articles at a valuation I direct that all the above specific gifts to my daughters and their shares of my residuary estate shall be for their separate use independently of marital control

I appoint my sons in law Colonel Henry and Ralph Smyth Esquire my EXECUTORS and I give to the said Ralph Smyth and to my friend Frederick Lushington Esquire of Rosiere

F/N 5, near Lyndhurst in the County of Southampton a legacy of one hundred pounds each and I revoke all former Wills In witness whereof the said Frances Louisa Lady Somerville have to this my last Will and testament set my hand this eleventh day of December in the year of our Lord one thousand eight hundred and seventy six Frances Louisa Somerville - Signed acknowledged and declared by the said Francies Louisa, Lady Somerville the testatrix at and for her last Will and testament in the presence of us both present at the same time and we at her request in her presence and in the presence of each other have hereunto subscribed our names as witnesses

George Nevitt Bennett, Lincolns Inn Solicitors Frederick Adams, 24 Granville Place, Butler to Lady Somerville

This is a Codicil to the Will of me the Right Honorable Frances Louisa Lady Somerville of Granville Place Portman Square in the County of Middlesex bearing date the eleventh day of December one thousand eight hundred and seventy six I bequeath to my former Governess Miss Emma Chapman an annuity of Thirty pounds a year for her life and to be paid to her out of my residuary estate and in all other respects I confirm my said Will In witness whereof I the said Frances Louisa Lady Somerville have to this Codicil to my last Will set my hand this 23d day of March one thousand eight hundred and seventy eight Frances Louisa Somerville Signed acknowledged and declared by the said Francies Louisa, Lady Somerville the testatrix as and for a Codicil to her last Will in the presence of us both present at the same time and we at her request in her presence and in the presence of each other have hereunto subscribed our names as witnesses.

Frederick Adams, Footman 24 Granville Place G. Nevitt Bennett, Lincolns Inn

This is a further Codicil to the Will of the Right Honorable Frances Louisa Lady Somerville of Granville Place in the County of Middlesex which Will bears date the eleventh day of December one thousand eight hundred and seventy six. I give to my friend and companion Mrs Isabella Wegnelin a legacy of one hundred pounds and to my maid Sarah Anne Sandell a like legacy And I give to each of my servants (including Sarah Anne Sandell) who shall have been five years in my service and shall not be under notice to quit at the time of my death a legacy of one years wages, All the above legacies to be paid free of duty In other respects I confirm my said Will and former Codicil In witness whereof I have hereunto set my hand this twenty first day of March one thousand eight hundred and eighty five Frances Louisa Somerville Signed acknowledged and declared by the said Frances Louisa, Lady Somerville the testatrix as and for a further Codicil to her last Will and testament in the presence of us both being present at the same time and we at her request in her presence and in the presence of each other have hereunto subscribed our names as witnesses.

Maria Lister Kaye 8 Green Street, Grosvenor Square, London, Gentlewoman Francis Bird 8 Green Street, Grosvenor Square, London, Housekeeper to Miss Kaye

On the 12th day of February 1886 Probate of this Will with two Codicils was granted to Charles Stuart Henry (in the Will called Colonel Henry) C.B. and Ralph Smyth Esquire the Executors.

(Finis RIP)





REGION

Not Regional